Redondo Beach, Public Intoxication near Pier, Client Age 63
Our recently retired client, a former engineer, was finding that retired life was paradoxically more stressful than he expected. He had taken an early retirement, but quickly found that caring for his 90-year-old mother with Alzheimer's and constantly being around his wife was difficult.
So, on New Year's Day, he decided to "escape" a bit. He drove his car down to Veteran's Park in Redondo Beach, parked it and walked out to the Redondo Pier to enjoy a beer or two alone. When asked later where exactly he had gone, he answered that he was not certain.
What was certain, however, is that he drank more than just a beer or two, as he ended up inside the Elks Lodge several hours later next to Veteran's Park and the manager there took away his car keys out of concern for his safety (and of others) were our client to try driving home. This upset our client, who demanded his keys back and when the manager called the Redondo Beach Police Department for assistance with our unruly client, our client walked out.
Police located our client sitting in his car, with no car keys, trying to start his car. To the police officers, our client appeared intoxicated and in danger of harming himself, so he was arrested on suspicion of public intoxication (Penal Code § 647(f)).
Police arrested our client and took him to the Redondo Beach Police Station, where he was not booked, but held for several hours and his wife was notified to pick him up a few hours later.
The police report described how our client was yelling and disruptive at the police department while being held there with others. When released from the Redondo Beach Police Department, our client signed a promise to appear in the Torrance Superior Court in about four months.
Upon being released to his wife after she came to the police department to drive him home, our client voluntarily entered the Betty Ford Clinic in Rancho Mirage for a detoxification visit and counseling. He stayed at Betty Ford for about ten days. The stay cost over $10,000, but our client was determined to end his abuse of alcohol, which also included a prior DUI conviction from about ten years earlier and a similar public intoxication incident in Manhattan Beach, for which our client was granted diversion and avoided any conviction.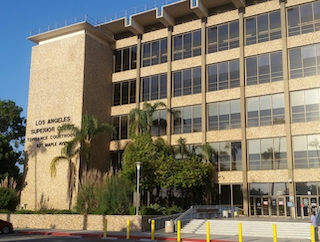 Torrance Courthouse
Once he returned from Betty Ford, the client called Greg Hill & Associates and spoke with Greg Hill about the facts of the case. He explained that he blacked out due to the alcohol and believed that he was arrested in Veteran's Park. The client also explained his recent retirement and how caring for his elderly mom was extremely stressful. He further explained how his stay at Betty Ford was quite helpful.
Greg explained how, due to the Client's prior history with alcohol-related arrests, the Redondo Beach City Prosecutors would be unlikely to offer diversion again for this second public intoxication event, especially with a DUI also being part of his history.
Nonetheless, Greg expressed optimism that the case would resolve with a small obligation to perform community service, perhaps continued attendance at Alcoholics Anonymous (AA) meetings and a small court fine. Greg requested that the client send him documentation of having been at Betty Ford after the arrest, so Greg could take this to court with him for plea bargain negotiations at the arraignment.
Greg then appeared at the arraignment in Torrance Superior Court and reviewed the police report, which was factually quite different than what the client described. Greg then discussed the case with the Redondo Beach City Prosecutor, who was alarmed by the fact that our client was literally arrested in the driver's seat of his car, trying to drive, but unable to do so because the manager of the Elk's Club had taken away his keys.
However, the Redondo Beach City Prosecutor acknowledged the client's genuine desire to overcome his alcohol problems by attending Betty Ford, so she offered to resolve the case on terms our client did find acceptable: a plea to public intoxication; no jail, no community service, no continued obligation to attend AA meetings, but an obligation to pay the Redondo Beach Police Department booking fee of $245 and stay away from the Elks Lodge for three years.

The client was happy with this resolution because no jail time was involved and there was no obligation to attend AA meetings or perform community service.
For more information about public intoxication, please click on the following articles: