At What BAC Can One Display Objective Signs of Intoxication?
In DUI cases in California, there is a four-page form law enforcement must submit to the DMV called the Age 21 and Older Officer's Statement. For under 21 cases, it is called the Age 21 and Under Officer's Statement. This form, regardless of the age of the suspect, is also called the DS367.
Why This Article Matters: Police often claim in reports that someone displayed "objective signs of intoxication" based on certain tests, but that the same person passed other tests, which would not be expected if the BAC is accurate. The value of this article is to refute the BAC based on the field sobriety tests and other observations that one should have failed or shown impairment in.

On page one of the form, the reporting officer can check blocks for the "objective signs of intoxication." They are, in order, "bloodshot / watery eyes," "odor of alcoholic beverage," "unsteady gait," slurred speech," and "other," which officer often then writes in HGN, which stands for Horizontal Gaze Nystagmus.
This term "objective" means observable in this context, however, it is often criticized as being conclusory because it seems to report that certain "signs" are irrefutable evidence of intoxication and nothing else.
This is definitely not true, as there are many reasonable alternative explanations why a person's eyes may become bloodshot, voice unclear, or walk in awkwardly.
Espinoza v. Shiomoto
(2017) DJDAR 331. For example, the person may be wearing contacts that irritate the eyes (or just be tired or suffer from allergies), the person's voice may be odd because the person is simply nervous or anxious (or have an accent), or walk unsteady because the person was in a car accident, or the road is slanted. It merits mention, lastly, that alcohol actually has no odor.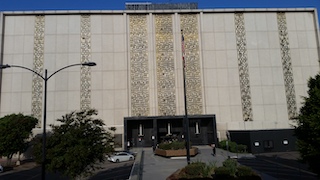 Norwalk Courthouse
Horizontal Gaze Nystagmus is common in sober people who have experienced a head injury in the past or were just in an auto accident.
Moreover, displaying such signs in no way is proof of intoxication at a level that means one is unsafe to drive, but they can mean this.
The signs that the DS-367 lists as "objective" do not become observable until the person has a blood alcohol content (BAC). This will vary by person, based on one's tolerance, age, gender, race, body fat, fatigue, mood, drinking pattern and about ten more factors to a lesser degree.
However, there are certain BAC levels associated with each and if a police officer does not report a certain "objective sign of intoxication," that is significant for suggesting the driver's BAC is below the expected BAC for such a characteristic. Similarly, if an officer claims to see every objective sign of intoxication, but the suspect's BAC is only 0.08% (or lower), it is likely that the officer is not being truthful.
These are the "objective signs of intoxication" and the expected BAC associated therewith:
Bloodshot / Watery Eyes: This can appear as low as 0.07% BAC, but is often a complete red herring for alcohol consumption, as there are many, many reasonable alternative explanations for red or watery eyes.
Odor of Alcoholic Beverage: The odor will vary by the length of time since the suspect consumed the drink and whether he or she drank other drinks, smokes cigarettes and is healthy. The odor really means very little to show intoxication, but is more probative only of having consumed some type of alcoholic drink. The odor is not of the alcohol itself, but of the hops in beer or the fruity drink mixed with the alcohol.
Unsteady Gait: An average person usually does not display an unsteady gait until his or her BAC reaches 0.10%, but this can manifest at a BAC as low as 0.06%, especially in an elderly person.
Slurred Speech: A normal person begins to show slurred speech at 0.06% and most everyone has slurred speech at 0.10%.
HGN: Peripheral vision can begin to degrade at 0.10%. HGN is difficult to notice even in a well-lit room, let alone on the side of the road with poor lighting and cars with headlights illuminated passing by, making the ambient light dynamic.
For more information about DUI arrest issues, please click on the following articles:

Contact us.