Redondo Beach, Client Punches Ex-Wife's Boyfriend, No File
Our client was arrested for one count of violating Penal Code Section 242, battery, a misdemeanor, after punching out his ex-wife's boyfriend. Our client, a well-known realtor in Palos Verdes, was 48 years old and had no prior record.
He was dumbfounded by the charges, as he was clearly hit first and acted only in self-defense. Therefore, he felt the Redondo Beach Police Department "got it backwards" in charging the wrong person, or at least that he was innocent due to self-defense, or at the very least, it was a case of mutual combat.
What One Should Learn from This Summary: Our client arrested for battery after punching out his ex-wife's boyfriend in self-defense. Our office lobbied the Redondo Beach City Prosecutor not to file the case based on self-defense, as the victim admitted he was the initial aggressor at a parallel civil restraining order hearing, and this was successful.

According to our client, his ex-wife's corroboration of her current boyfriend's claims made it two witnesses against him, so the police believed our client was the initial aggressor and simply arrested him.
The incident leading to the arrest and charges was one where our client's ex-wife asked our client to stop by her residence to pick up some of his personal items. Our client arrived with a U-Haul truck on time, only to find that his ex-wife had not set aside the items for pick up and was talking with her new boyfriend in the garage, where the items for pick up were located.
Our client asked his former wife what items she needed him to pick up and she said "nothing." Having driven approximately 40 miles in a large U-Haul truck, knowing that his ex-wife had a truck load of his possessions ready for him to pick up, he responded, "This is BS." After all, she seemed to enjoy telling him to leave.
Our client believed his ex-wife had set up the time for the pick-up and then deliberately chosen to do nothing to frustrate him for fun. She had apparently done this before in other contexts, just to see him get angry.
After our client said, "This is BS," from out of no-where, the boyfriend hit our client across the jaw, causing our client to bleed. Our client looked over at the boyfriend, who was apparently standing in an aggressive posture as if to continue fighting. Our client then decked the boyfriend in one punch, knocking him to the ground, where he remained until paramedics arrived.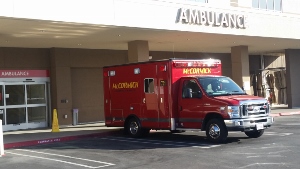 Police arrived and asked the ex-wife who hit who and she said our client just hit her boyfriend for no reason. The boyfriend said the same thing. The police then arrested our client and charged him with battery.
Our client then hired Greg Hill & Associates. Greg Hill bombarded the Redondo Beach City Prosecutor with the transcript from the hearing on the civil temporary restraining order sought by the boyfriend against our client, which the judge denied, and letters of admiration for our client as a peaceful person.
At the hearing on the TRO, the boyfriend had testified under oath to a totally different set of facts, wherein he admitted to punching our client first and then claimed our client hit him back, but far too hard. The judge heard this and asked him, "well, then it was self-defense so he would not be hit a second time?" The boyfriend responded, "no, it was not necessary. I just wanted to punch him once." The testimony was completely different than what was stated in the police report.
Two days before the arraignment, the Redondo Beach City Prosecutor announced that she would not file charges. Our client was extremely relieved, as he had a profession with a realtor's license from the State of California that might have been subject to discipline had he been convicted.
For more information about the issues in this case summary, click on the following articles:
Fingerprint Records Must Be Destroyed If the Court Grants a Petition for Factual Innocence (Penal Code § 851.8)
Contact us.