Red Light Camera Ticket with No 30 Day Notice Affirmed
In 2008, Steven Gray received a citation for entering the intersection of Washington Boulevard and Helms Avenue in Culver City on a red light in violation of Vehicle Code § 21453(a). Mr. Gray received the ticket by a "red light camera" showing his car within the intersection when the traffic light for his direction of travel was red. There was no debate that the driver of the car was him.
Brief Synopsis: Red light camera ticket affirmed by California Supreme Court for a motorist receiving such a ticket at an intersection that had such a camera for two years. The motorist claimed that all tickets issued in the City of Culver City were invalid because the city violated Vehicle Code § 21455.5(b) that obligated the city to allow a 30-day grace period after the camera was installed before any tickets were issued.

Vehicle Code § 21455.5(b) obligated the city installing such a camera to make a public announcement concerning its installation and then have an initial 30-day period after installation during which warnings are given instead of citations.
The statute was vague as to whether this public announcement and 30-day warning period concern only the city's first such red light camera or every red light camera later installed at different intersections.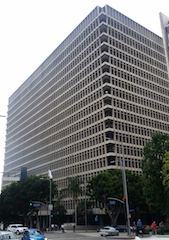 Clara Shortridge Foltz Criminal Courts Building CCB Downtown LA
Steven Gray put this statute's interpretation to the test. The red light camera that photographed him was installed two years earlier, in 2006. The City of Culver City then immediately began issuing tickets. It did not issue any type of public announcement or comply with the 30-day warning only period.
Therefore, one issue suggested by this conduct is that the City of Culver City violated section 21455.5(b) regardless of whether the ticket issued to Mr. Gray was from the first red light camera.
Gray first pled not guilty and sought dismissal, arguing that Culver City had failed to comply with Vehicle Code § 21455.5(b). The Los Angeles County judge hearing his motion denied it ruling that the statute only applied to the city's first installation of a red light camera, which apparently was not the same camera that took Gray's photo and it was not within 30 days of that camera being installed, even if at a different location.
The trial court then found Gray guilty of the charge. Gray then appealed to the Appellate Division of the Los Angeles County Superior Court, which affirmed the trial court. The appellate division disagreed with
People v. Park
(2010) 187 Cal. App. 4th Supp. 9, which held that a public announcement and a 30-day period of warning notices were required for each installation of a red light camera.
Curiously, the Court of Appeal ordered the case referred to itself under California Code of Civil Procedure § 911 and California Rules of Court, Rule 8.1002. It then affirmed the superior court appellate division.
Mr. Gray then appealed to the California Supreme Court. It ruled in favor of Mr. Gray, insofar at least as Gray argued that a public announcement and 30 day warning notice period was required for each traffic light equipped with a red light camera. However, it affirmed Gray's conviction, rejecting Gray's argument that his ticket was invalid because Culver City failed to comply with Vehicle Code § 21455.5(b)'s notice and warning period requirements.
The California Supreme Court's analysis, in reaching this seemingly confusing result, made sense. It reasoned that 21455.5(b)'s requirement of a 30-day period of warning notices was for the benefit of those violators whose red light violations took place at the specific intersection in question when the red light first became operational.
The court continued, commenting that the announcement and 30-day warning period would not have benefited Mr. Gray because his violation took place two years later. Had Gray's ticket been issued during the 30-day period, however, it would have been invalid. In other words, Culver City's compliance with Vehicle Code § 21455.5(b) was not a jurisdictional requirement to enforcement of all red light camera tickets.
We like Mr. Gray's zeal in fighting this ticket all the way to the Supreme Court and applaud his tenacity, however, we also appreciate the Supreme Court's pragmatic response that seemed to recognize that even if such a grace period had been violated, Mr. Gray's ticket was issued so long after that 30-day period that it likely would have made no difference to his driving.
The citation for the California Supreme Court ruling discussed above is People v. Steven Gray (2014) 59 Cal.4th 901.
For more information about traffic tickets in general, please click on any of the three following articles:
Contact
Greg Hill & Associates