Rancho Cucamonga, Violation of Civil Restraining Order
Our client and his Peruvian girlfriend had a relationship seemingly scripted from the start. When our client first met her, she joked that she liked rich boyfriends because she enjoyed eating at good restaurants and when she found a richer boyfriend, she would simply dump the current boyfriend and get a restraining order to ensure the break was clean. Her casual manner in describing this method made our client suspect she may have actually had some practice following this cold path.
Synopsis: Rancho Cucamonga, client violates civil restraining order by leaving girlfriend voicemails & sends many e-mails and texts, case resolved for disturbing the peace.

Our client was concerned about this and it always echoed in his head, but he thought he could change her approach. After all, she was quite beautiful and he thought she was worth it.
Over time, however, our client, age 27, noticed that his girlfriend spent a lot of time on the phone, seemingly with males. She would always dismiss such concerns as saying, "Oh, he is just a friend. It is nothing." She also never introduced our client to her parents, saying they died in a car crash, but he knew this was not true when she once explained that she was at her mom's house.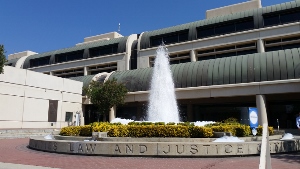 Courthouse in Rancho Cucamonga

Finally, she stopped calling him – after many expensive vacations and, yes, expensive dinners. This was after six months. He tried contacting her, at first concerned for her safety. Then, without provocation, she then served him with a civil restraining order. Our client later found out that she was dating another man all along, even before he started dating her.
Our client was understandably enraged and let his now former girlfriend know it in dozens of voicemails, about ten e-mails and dozens of text messages that she forwarded to her e-mail and printed out.
She believed he was stalking her, so she then notified the police, who in turn, notified the Rancho Cucamonga District Attorney's office. The DA's office filed a misdemeanor complaint against our client, charging him with fourteen counts of violating Penal Code § 166(a), violation of a court-order domestic violence restraining order. The client then retained Greg Hill & Associates.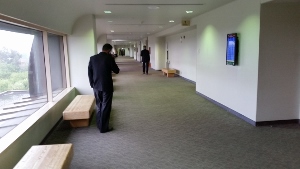 Rancho Cucamonga Superior Courthouse
The client was disgusted with the woman and Greg had to first untangle the fact that the woman had apparently obtained a civil domestic violence restraining order against him without his ever being served with papers. Greg went to the courthouse and retrieved a copy of the file, which confirmed the fact that she had lied to the court about serving him with the petition for a restraining order. This allowed her to then have a hearing without him present and obtain the civil restraining order by default.
Greg then appeared in the criminal case many times, approximately once per month. It took five months, with many letters and almost forcing the prosecutor by hand to read the transcript of the restraining order hearing, but the District Attorney finally agreed to drop charges to a disturbing the peace. The key was in persuading the District Attorney that the former girlfriend had a modus operandi that she executed to perfection with our client, using lies and histrionics to feign fear. However, the documented e-mails, voicemails and text messages were certainly difficult for the DA to disregard.
Nevertheless, the prosecution's offer of two years in county jail also dropped to a mere $150 dollar fine (with no penalties and assessments) and three years of summary probation. Most importantly, Greg was able to persuade the District Attorney to remove the fifty-two week anger management program entirely.
For more information about issues in this case, click on the following articles:
Watch our Video about Domestic Violence by clicking
here
.
Contact us
.