Rancho Cucamonga, Possession of Cocaine for Sales
The Reader's Digest Version: Client, age 24 and on probation for a domestic violence conviction, is caught with sixteen grams of cocaine and charged with possession for sales (H & S § 11352), which carries with it a maximum sentence of nine years. Case resolved for three years of formal probation and no time in custody.

Our client, age 24, was with a friend, age 18, at a restaurant in Upland. The two were drinking beer. They really did not know each other too well, but they went together to sell some cocaine to another two guys. The sale did not go through, as the buyers could not make it to the restaurant.
Our client and his friend then went out in the restaurant parking lot. They were upset and when some other young men gave them a confrontational stare, the 18-year-old yelled, "do that again and I'll fix your face!" The other young men approached our client and his friend, and it looked like there would be a fight. The other group then left in their cars.
Someone called the Upland police, who arrived within minutes stating they received a report of someone with a gun. Neither our client nor his younger friend had a gun and told the police this, but police asked to search them nonetheless. They also asked our client if he was on probation, which our client was from a prior domestic violence conviction.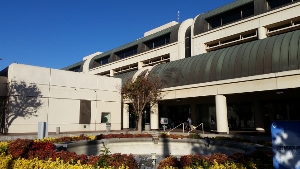 Rancho Cucamonga Courthouse
The police then patted down our client and his friend. Police noted in their report that both our client and his friend appeared drunk.
As police searched our client, they felt a small lump in our client's front pocket and asked our client what it was. Our client produced the baggie, which contained a white powder later weighed as sixteen grams of cocaine. Our client's friend had twenty grams of cocaine in a similar baggie in his pocket, too. Each young man also had about $300 in cash.
The police then searched our client's cell phone, which included text messages saying he had the "goods on deck," meaning ready for a sale.

Police then searched the interior of the car and found an operational digital scale and about two dozen small zip lock baggies.
The client and his friend were then arrested on suspicion of violating Health & Safety Code § 11352, selling or transporting a controlled substance (other than methamphetamine or marijuana) for sale. This violation involves a minimum prison sentence of three years, a mid-term of six years and a maximum term of nine years if probation is not afforded.
Although our client was on probation, the police allowed our client's parents to post bail and they did so.

The client then contacted Greg Hill & Associates and spoke with Greg Hill. The client explained what had happened and how he thought the police had performed an illegal search of him. Greg and the client then discussed the relevant law (Mapp v. Ohio) on this subject of officer safety, including the client's likely Fourth Amendment waiver by being on probation.
Greg then appeared with the client in the Rancho Cucamonga court and the client was offered probation, but with one year in county jail. Greg and the client then decided to proceed onward, with hopes that Greg would negotiate a better deal.
About one week later, our client was arrested on a probation violation for his domestic violence case (after the judge issued a bench warrant upon being informed of his drug sales arrest). The client then went into custody with no bail.
After several court appearances in a short period of time (21 days), the prosecutor relented and agreed to resolve both the drug sales and the probation violation for time-served and three years of formal probation. Our client further agreed to forfeit the money seized, but otherwise had no obligations on probation except to obey all laws.
This summary is offered to demonstrate how offers can change and deciding to fight the charges can be wise, as prosecutors often are motivated to close cases for significantly improved deals just to reduce their file count, as was the case here.
For more information about drug offenses, please click on the following articles:
Contact us.