Rancho Cucamonga Elder Abuse, Plea to Disturbing the Peace
Our client, age 23, had a bad run of luck over the last six months, picking up two cases at the Rancho Cucamonga courthouse. She also had a prior conviction for public intoxication out of the Burbank court and was on summary probation for that case.
In the first of her two Rancho Cucamonga cases, she was at a bar and went back to an Ontario Mills area hotel with 33-year-old man she met there. He was so drunk that she became uncomfortable being around him, so she called 911 for police assistance. Police arrived and arrested her, not her older new boyfriend, for public intoxication (Penal Code § 647(f)).
Why This Summary Matters: Elder abuse of one's own mom can be prosecuted with significant punishment, but our client in the following Rancho Cucamonga courthouse case was fortunate, as the elder abuse charges was resolved instead for disturbing the peace (Penal Code § 415(2)).

In the second case, she was at a Mexican restaurant and had enjoyed a few too many drinks. Her boyfriend came to the bar and took her home to her mom, age 73. The client was upset at this, especially when the boyfriend lectured her about controlling her drinking.
When she got home, her mom berated her about drinking too much, too. This caused our client to argue that she did not have a drinking problem and that she was going to her room to sleep for the night. As she was going to her room, her mom got in her way, insisting upon a further discussion of her drinking.
Our client then pushed her mom to the ground, causing her mom to bruise her hip. Her boyfriend then intervened and our client kicked him in the shins. The mom called 911 and the police arrived, arresting our client for misdemeanor elder abuse with intent to create great bodily harm (Penal Code § 368(c)) and misdemeanor domestic violence (Penal Code § 273.5(a)).
The two cases were filed separately, but then combined after the arraignment. The Rancho Cucamonga district attorney assigned to the case could see that our client had a drinking problem, but also was concerned that she had an anger problem, or at least poor self-control.
The initial offer to her was that she would plea no contest to the elder abuse charge and the public intoxication charge, be placed on three years of summary probation on the following terms and conditions: that she enroll in and complete a 52-session batterers program, that she perform 60 days of community service, that she make a $500 contribution to a victims of domestic violence fund, that she attend 52 Alcoholics Anonymous (AA) classes and that she pay a court fee of $300, plus penalties and assessments (total of about $1,400).
The client heard this offer and called Greg Hill & Associates. She spoke with Greg Hill and explained the two cases and how she had already been attending AA and that her boyfriend had left the country, returning to Nicaragua. She also stated that her mom was saying she lied to the police to simply get the police to arrest her daughter for her drinking again.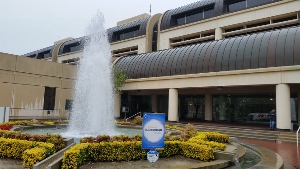 Rancho Cucamonga Superior Courthouse
Greg Hill explained how such cases were handled in the Rancho Cucamonga courthouse and how her attending AA meetings was quite helpful. Greg then appeared at the next hearing, relieving the public defender, and began discussing the case with the prosecutor.
Over the next two court appearances, Greg explained the factual background for the two cases and how the client had already attended 78 AA meetings. He explained how the mom was recanting her story and how the boyfriend involved in the domestic violence case had moved back to Nicaragua.
Greg suggested that the prosecutor resolve both cases for a single count of disturbing the peace (Penal Code § 415(2)), with 100 AA's for the client to attend (with credit for 78 already attended) and perform 30 days of community service, not 60.
The prosecutor agreed, surprisingly, but countered with the same plea bargain, yet with 35 days of community service.
Our client happily agreed, greatly relieved to avoid a conviction for elder abuse, domestic violence and, again, for public intoxication. More importantly, due to her work as a female in commercial real estate, she wanted to carry a firearm and this resolution avoided the firearms ban that a conviction for domestic violence would require.
For more information about elder abuse, domestic violence and disturbing the peace charges, please click on the following articles:
Contact us.