Public Urination, PC 372, Hermosa Beach, Immigration Issues
Our client, age 29, was cited in Hermosa Beach for violating Penal Code § 372, public urination, near the taxi pick up area along Hermosa Avenue, just south of the intersection with Pier Avenue. He was waiting for an Uber, a smart choice since he had drunk quite a few beers, but made the not-too-smart choice to wander over behind a parked SUV and urinate.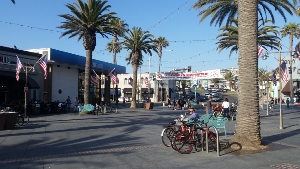 Hermosa Beach Pier Plaza
A uniformed Hermosa Beach Police Officer in the area observed this and gave our client a ticket for public urination after the client finished his business.
In a Nutshell: Client receives ticket for violating Penal Code § 372, misdemeanor public nuisance, for urinating in public in parking lot just west of the taxi up area off Hermosa Avenue. He was a student on an F-1 Visa attending UCLA. This was his second alcohol-related offense, so he was worried his Visa would not be renewed. Case resolved for an infraction with the misdemeanor dismissed.

Our client was not a U.S. citizen and since this was his second alcohol-related offense in three years (his other was a DUI), he was nervous about how this would affect renewal of his F-1 visa (he was a student attending UCLA).
After he received the ticket, he was relieved not to be arrested, so he thought the violation was an infraction that could be resolved just by paying a fine. When he got on the Internet back at home, he learned that it was a misdemeanor punishable by up to six months in county jail.
He called his immigration attorney and asked if this citation would affect his renewal of his visa and the immigration attorney said that it would and that it would be best if he could get it dismissed.
He then called Greg Hill & Associates and spoke to Greg Hill. Greg listened to the client explain what had happened and the client's concern about having his F-1 renewal rejected due to the second alcohol-related offense.
Greg explained that such tickets are often reduced to infractions, but at a rather steep price: the client must make a $550 "donation" to the Hermosa Beach nuisance abatement fund and then pay a $10 court fee, plus penalties and assessments (making the total close to $160). However, Greg warned, usually such a resolution is available to someone who has no prior convictions.
Greg thought that such a resolution might be unavailable to our client, so he suggested that the client attend ten Alcoholics Anonymous (AA) meetings and write a short essay on why public urination is illegal, in case the prosecutor was reluctant to extend the usual resolution terms and needed something else to persuade her that the client was remorseful and did not overlook his alcohol issues.
The client agreed that such preventative measures would be wise, although Greg explained that the Redondo Beach City Prosecutors who handle the Hermosa Beach public urination cases can be tough.
Greg then appeared at the arraignment, armed with the client's proof of attendance at 10 AA meetings and his essay on why public urination is illegal.
Fortunately, however, the prosecutor's office did not run a criminal history report on the client, so she was unaware of our client's checkered past. She looked at the police report, which described our client as cooperative and respectful to the police.
She then offered our client an infraction-level offense of violating Penal Code § 415(2), "disturbing the peace – making a loud noise," if our client made the $550 "donation" to the Hermosa Beach nuisance abatement fund and later paid the $10 court fee, plus penalties and assessments.
The client then made the donation and paid the court fee, "earning" a dismissal of the misdemeanor Penal Code § 372 charge (making his immigration attorney happy) and resolving the case as an infraction, the same level charge as a parking ticket. The client's path to renewal of his F-1 visa was more clear now.
For more information about public urination, please click on the following articles:
Contact us.