Public Urination, Hermosa Beach, Client Has 2 Prior DUI's
Our client, age 24, went to the Hermosa Beach bars off Pier Plaza with some co-workers who invited him to join them on a night of debauchery.

Our client was no stranger to indulging a bit more than is legal with alcohol, as he was on probation for his second DUI conviction. In fact, the judge on his second DUI ordered, as a condition of probation, that he not drink any alcohol at all while on probation.

In his second DUI, he had refused to submit to a breath or blood test, so the DMV had suspended his driving privileges for two years and he was still using Uber and public transportation to get around. It was painful and expensive. He was on five years of informal probation for his second DUI and was yet to complete his second year.
Our client, however, was concerned about appearing aloof to his co-workers if he declined their invitation to join them. Besides, he wanted to be well-liked at work and so he decided to join his co-workers. It was a Friday night, so he did not have work the next day. What could go wrong?
The group first met up at Baja Sharkeez, where the group shared two pitchers of beer. Our client was hesitant to drink anything, but eventually had one glass of beer that he drank slowly, while others drank much more. Several co-workers were joined by their significant others, who seemed eager to drink to excess early.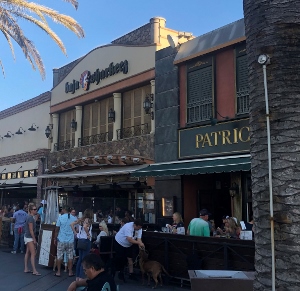 Baja Sharkeez in Hermosa Beach
The group then went just next door to American Junkie, which was considerably louder and busier with other people. The group ordered some appetizers and two more pitchers of beer, which was followed up by two more pitchers of beer.
Our client was aware that he did not have to drive himself home, as he took Uber to the Pier Plaza area anyways. He had no car to drive home, so he would not face a third DUI this evening. He therefore drank a bit more.

The group then moseyed on over to the Laurel Tavern, which was away from Pier Plaza on Hermosa Avenue and a bit less crowded, so it was not so loud. The group started slowing down on the drinking at Laurel Tavern, but still stayed until the bar reminded them at about 1:45 a.m. that they would be closing at 2:00 a.m.
Our client called Uber and said his goodbyes to the group. He felt a biz buzzed, but not stumbling drunk at all. He then headed over to the area for his Uber driver to pick him up, near the taxi pick up area.

It was at this time just after he left Laurel Tavern that he felt the need to urinate. He knew he had about ten minutes before his Uber driver would arrive, according to his cell phone, so he tried to re-enter Laurel Tavern to use the restroom. They told him no. He then went to American Junkie and they also told him no.

The client then did urinate down the alley off 13th Street, just about 20 feet from Hermosa Avenue. Our office has handled perhaps three dozen public urination cases from this very same location. After our client had finished urinating, a uniformed police officer approached our client and asked him if he had just urinated. Our client admitted that he had. The police officer therefore proceeded to issue our client a ticket for "public nuisance," a violation of Penal Code section 372. Our client signed a promise to appear in the Torrance Superior Court in about two months. The officer was then gone, as if he was in a rush.
The client and his mom both called our office to discuss the ticket our client received. Both were concerned about a violation of probation in the other court and how this particular ticket would be resolved in Torrance. Would jail time be mandatory? What would be the fine? Was there any way to have it dismissed?
Greg listened to the client describe what had happened and then explained that regardless of whether the Redondo Beach City Prosecutor noticed the two prior DUI convictions, our client would be wise to attend at least ten Alcoholics Anonymous (AA) meetings prior to the arraignment. Greg explained that attending such meetings suggests the client is earnest about resolving the court case on lenient terms, but more fundamentally, suggests the client is trying to abstain from alcohol or become a more responsible drinker if he or she does drink, by being more aware of the effects of alcohol on one's judgement.
The client then did indeed attend ten AA meetings prior to the arraignment. Greg appeared on the client's behalf at the arraignment (the client stayed at work). Quite luckily, the Redondo Beach City Prosecutor did not seem to be aware of our client's probationary status and offered our client a plea bargain wherein he could "earn an infraction" to a charge of violating Penal Code § 415(2) ("disturbing the peace by a loud noise) by making a $550 "donation" to the Hermosa Beach Nuisance Abatement Fund (to improve the public restrooms in Hermosa Beach and increase signage to such restrooms) and paying a court fee of $50, plus penalties and assessments (total would be about $450).
Greg then showed the prosecutor our client's attendance log from ten AA meetings and the prosecutor removed the court fees and fines from the terms to earn an infraction.
The client was very relieved to hear the offer and made the $550 donation the following day. About a month later, Greg returned to court and the misdemeanor charge was dismissed upon our client's no contest plea to the infraction for disturbing the peace. He was extremely happy to see the case resolved as it was. There is no probation associated with an infraction, so he was happy to avoid being on probation in two cases at the same time.
For more information about public urination, please click on the following articles:
Contact us.