Public Intoxication, Torrance, While on Joint Suspended
Our client, age 23, would be the first to admit that alcohol was not his friend. However, he seemed to be unable to make it his ex-friend.
He had just gotten out of Los Angeles County Jail after serving approximately 100 days of a sentence for 365 days and decided to go to the Del Amo Mall to buy a present for his two-year old son.
Before he bought the present, he saw a restaurant that was serving alcohol and he decided to go in to "just have one." One turned into eight or nine and he sadly spent all his money on beer before he realized what he had done. He then had no money for a present or a taxi ride home.
He then decided to walk home. He walked from the Del Amo Mall eastbound on Torrance Boulevard to Crenshaw Boulevard. This was, by itself, over a mile. He then turned left and waked northbound to Del Amo Boulevard, at which point a police officer came into contact with our client, who was apparently walking on the portion of Crenshaw Boulevard reserved for automobiles despite there being a sidewalk along the road. Apparently, a 911 caller had reported a man walking northbound on Crenshaw who appeared to be under the influence.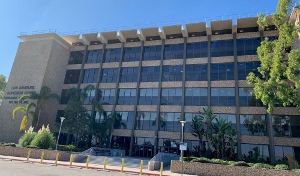 Torrance Courthouse

The police asked our client where he was walking to and why he was not driving. After all, the area near the corner of Del Amo and Crenshaw Boulevard is near the south edge of the refinery and near a lumber yard. There are no businesses nearby that were open to the public at the time, which was about 5:30 p.m.
Our client told the officer that his license was suspended. Our client's driving privileges indeed were suspended by the DMV for four DUI's (our office resolved the last one for a third-time DUI as a misdemeanor when the prosecutor failed to correctly read our client's record), so he could not drive.
The officer noted that our client appeared quite drunk, so he asked him if he had been drinking. Our client candidly answered "plenty."

The Torrance Police Officer then arrested our client for public intoxication, a violation of Penal Code § 647(f). He was taken to the Torrance Police station, where he was booked and held for a few hours to "dry out."
The client then called Greg Hill & Associates, who had represented the client in two prior DUI's and one prior public intoxication case. Greg was concerned about the client's fate, as he was on a six-year joint suspended out of downtown Los Angeles for a residential burglary conviction he suffered two years earlier. Greg had managed to resolve two DUI's during the prior two years without having the downtown Los Angeles judge impose the six years of state prison, but Greg thought this public intoxication limit may the he "third strike, you're out" that would cause the downtown Los Angeles judge to finally remand our client.
Greg then appeared in the Torrance Superior Court for the arraignment on the case, which included a probation violation for his fourth DUI (resolved as a misdemeanor) and his second DUI as well. Greg was concerned that even if the judge on the case was unaware of the joint suspended hanging over our client's head, that she might impose 90 days of county jail or something severe just for the client's continued abuse of alcohol. After all, one of the terms of his probation on his fourth DUI was that he not consume any alcohol while on probation.
However, each prosecutor on the probation violations was willing to reinstate our client on probation with no additional punishment and, after some negotiating, the prosecutor on the public intoxication was happy to resolve the case for three years of summary probation and 80 hours of community service and payment of the City of Torrance booking fee.
Greg could not believe that our client had miraculously dodged the joint suspended, any custody time for the two probation violations and was afforded probation on the public intoxication. The client could not believe it either, calling Greg his "good luck charm."
The client walked out of the courthouse, relishing the facts that he was free and not in custody.
For more information about public intoxication issues, please click on the following articles:
Contact us.