Public Intoxication, Redondo Beach, on Probation for DUI
Our client, age 41, was in Southern California for a work assignment from his employer in Illinois, where our client also lived. He brought his wife with him. The two went to a Hermosa Beach restaurant to enjoy the warm Southern California weather and take in the Hermosa Beach bars on Pier Plaza.
The two used Uber to return to the Crown Plaza Hotel in Redondo Beach and began arguing about their relationship. The argument grew louder and louder until it alarmed other hotel guests and they called the Redondo Beach Police Department, which arrived within minutes.
In a Nutshell: Public intoxication is often an inflated charge for someone who is just disturbing the peace and drunk, which is not always or necessarily a crime. This Redondo Beach and Torrance court case involved rather strong circumstantial evidenced of domestic violence, but our client was only charged with public intoxication. The case was then resolved with no jail, a $150 fine and three years of informal probation.

The police went to our client's room, but only found his wife crying with cuts to her face and bruises on her arms. The wife, knowing her husband (our client) was on probation out of Illinois for a DUI, refused to tell police how she was injured. Police then searched the hotel for our client and found him in the parking garage area, with his keys in hand, smoking a cigarette. He, too, had multiple cuts and bruises on his face and arms.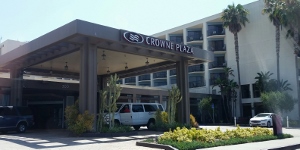 Crowne Plaza Hotel
Fortunately, police did not arrest our client for domestic violence. Instead, they arrested him for public intoxication (a violation of Penal Code § 647(f)). This was based on his being unable to tell the police where he was and how his wife was injured, as well as how he, too, was injured.
Our client was then arrested and transported to the nearby Redondo Beach Police Department, where pictures were taken of his injuries. The client's wife was also brought to the station, where photos were also taken of her injuries. Police there were very nice to our client, he said, and, after a few hours, he was released on his own recognizance after signing a promise to appear in the Torrance Superior Court about ten weeks later.
The client and his wife returned to Illinois and the client called Greg Hill & Associates about this arrest and future case. He described what happened and expressed wonder at why he was not arrested for domestic violence and instead, public intoxication. Greg responded by saying that the Redondo Beach City Prosecutor's Office was not bound by the stated reason for the arrest by the police, but could charge him with misdemeanor domestic violence (Penal Code § 273.5), battery on a spouse or cohabitant (Penal Code § 243(e)(1)) and/or simply battery (Penal Code § 242).
Greg then explained how such cases, including for public intoxication, are handled in the Torrance Superior Court for someone with his case facts and his criminal history, assuming the prosecutor was aware of his prior history (a DUI and several public intoxication convictions from other states).
Greg then appeared in the Torrance Superior Court and discovered, much to the client's relief, that he was indeed only charged with public intoxication, a violation of Penal Code § 647(f). The client's criminal history in its entirety was also part of the file.
Greg then discussed the proposed plea bargain written out in the court file (on a yellow sheet of paper) by the Redondo Beach City Prosecutor. Due to our client's prior history, he was ineligible for judicial diversion. The prosecutor's offer of a plea bargain was that our client would plead "no contest" to a violation of § 647(f) and be placed on three years of summary probation, contingent upon him paying a court fine of $150, plus penalties and assessments (total of $750), attend 26 Alcoholics Anonymous (AA) meetings and pay the Redondo Beach booking fee of $349.
Greg then negotiated with the Redondo Beach City Prosecutor over the course of the next two hearings and was able to reach a plea bargain that credited our client the 26 AA meetings for his attendance at his DUI class in Illinois, but otherwise kept the $150 fine and the booking fee.
The client was happy with the resolution and thankful that he had not been charged with domestic violence instead.
For more information about public intoxication issues, please click on the following articles:
Contact us.