Public Intoxication, Manhattan Beach, Office Hearing
On the morning of a national holiday toward the end of summer, our two clients met in Manhattan Beach to work out and then enjoy a brunch near the beach.
One of our clients was 27 years old, a U.S.C. and U.C. Berkeley graduate. She had earned her master's degree in public administration from U.S.C. and her undergraduate bachelor's degree in social welfare from U.C. Berkeley. She was employed by a Los Angeles area community college.

Our second client was 30 years old and had been awarded a masters from Cal State Dominguez Hills and an undergraduate degree from Cal State Long Beach (see attached resume). While in school, she earned many awards for academic excellence. She was employed as a site director within the education field.
After the two had completed their workout, they enjoyed brunch together, which included many mimosas. The two each had a few mimosas then decided to go Target in Manhattan Beach to shop for shoes.
The two went into Target and tried on several pairs of shoes, but decided they needed a nap.
So, the two returned to their parked car in the Target parking lot and each fell fast asleep.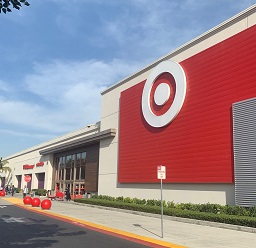 Target Manhattan Beach
About 4:00 p.m., they were awoken by tapping on their window by someone who appeared to be a Manhattan Beach Police Officer.
Our one client, not understanding who the officer was, believed it was a person posing as a police officer and pretending to order them out of the car. So, our client feigned going back to sleep and told the police not to bother her.
The police did not appreciate this disobedience and lack of respect, so they threatened to break open the car window to open the car door. Our client then stopped pretending to sleep and opened up the car door and stepped out. The other client did so as well.
Both of our clients were annoyed by the police for waking them from their nap in their car. They insisted to police that they were not hurting anyone and that it was not against the law to just catch a short nap in a parking lot.
The police did not appreciate our client's lack of fear for authority, so they ordered each client to sit on a nearby curb while police searched the interior of the car without consent. Our clients told the police that they needed a search warrant to look inside the car and in response, police announced they were arresting both clients, so the search could be a legal search incident to an arrest.

Police then handcuffed each client and put each one in a separate police car.
Finding no stolen property or drugs in the car, police then told our clients that they would be taken to the police station to be booked for public intoxication (Penal Code § 647(f)) and delaying or obstructing a police officer (Penal Code § 148(a)(1)).

Each client was then indeed taken to the police station, booked, fingerprinted and then released later that night. One of our clients requested to use the restroom while in handcuffs and the police denied her request, so our client wet herself while handcuffed at the police station.
When the clients were released after each signing a promise to appear in the Torrance court for their arraignment about two months later, they called Greg Hill & Associates and explained what had happened. Both explained that they had been drunk, but were otherwise shocked at how quickly they were arrested and how the Manhattan Beach police department otherwise acted.
Both explained that they wanted to sue the police department for violating their civil rights.
Greg explained that suing the police while the criminal case was still pending would not be a good idea, so the smartest thing to do is avoiding a criminal case.
Greg suggested each client attend ten Alcoholics Anonymous (AA) meetings and that each client provide Greg with her resume and most recent paystub.
Greg then wrote the District Attorney's office in Torrance, enclosing proof of each client having attended 10 AA meetings, their individual resumes and their paystubs.

Greg then suggested that both cases be resolved without a criminal case filing. After all, in terms of public intoxication, neither client was obstructing a public thoroughfare or so intoxicated as to be unable to care for her own safety or welfare. They were napping in a car. When placed under arrest, she protested her arrest. Officers replied, "tell it to the judge." In other words, police understood it was a weak case, but were unwilling to leave without making an arrest.
Greg suggested saving judicial resources by instead of letting the case continue forward, referring the case to an office hearing or with a referral to the P.A.T.H. (Promising Adults, Tomorrow's Hope), a program out of the Long Beach Goodwill. The Long Beach City Prosecutor's office refers low-level misdemeanor cases to it, especially those involving defendants with no prior criminal history.
To Greg's surprise, the Torrance DA's office agreed and referred both clients to an office hearing. This was great news and allowed each client to preserve a spotless criminal history.
For more information about an office hearing, public intoxication and delaying or obstructing a police officer (Penal Code § 148(a)(1)), please click on the following articles: