Public Intoxication, Hermosa Beach, Dismissal After 30 AA's
Our client, age 32, was in town for business from Mississippi and discovered the Pier Plaza area of downtown Hermosa Beach. Mississippi did not have anything quite like Pier Plaza, with its many bars and restaurants, palm trees and Pacific Ocean breezes from the ocean just 200 yards away.
He went to several bars, but spent most of his time at Tower 12, a newer bar on the second story above Café Bonaparte, a small restaurant on the first floor facing the Pier Plaza. Tower 12 faces the south and toward the ocean.
After a few too many drinks, our client decided to walk back to his hotel, but while walking there at approximately 2:30 a.m., he stopped to sit down on a driveway of a home on Sunset Drive in Hermosa Beach. His rest break turned into a nap, as the home owner of the house with the driveway noticed our client asleep and called the Hermosa Beach Police Department.
The police arrived shortly thereafter and roused our client awake. It was 3:20 a.m. He was unable to tell officers where his hotel was, but told officers that he had been at Tower 12 earlier in the evening / morning hours.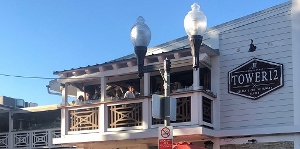 Tower 12 Bar Hermosa Beach
Police took him in to the Hermosa Beach Police Station, booked him and had him spend a few hours to "dry out." They did not ask our client to submit to a breath or blood test to measure his blood alcohol content (BAC), but told our client he was being held on suspicion of public intoxication.
In our experience, police all over Los Angeles, Orange, Riverside and San Bernardino Counties often arrest an individual for public intoxication, a violation of Penal Code § 647(f), when the person is just an unruly drunk and really just disturbing the peace, which is conduct more fitting of Penal Code § 415(2). The problem is that public intoxication is a misdemeanor, so such an arrest appears on one's criminal history as a misdemeanor arrest, whereas disturbing the peace can be an infraction, which is less serious than a misdemeanor.
To violate Penal Code § 647(f), one must be so intoxicated by alcohol or drugs, or a combination thereto, that one, due to this condition, is unable to care for his or her well-being or that person interferes with a public thoroughfare (i.e. one walks out in traffic, passes out on a sidewalk or public stairway).
In our client's case, it was a rare arrest that seemed to fit the statute's definition of public intoxication because he was unable to care for his own well being by being too drunk to walk back to his hotel room without passing out and he was unable to seek directions to the hotel because he forgot the name of the hotel. Otherwise, police might have been able to simply drive him to the hotel, help him to his room and wish him a good night's rest.
The client, upon his release from the Hermosa Beach jail the next morning, made his way back to his hotel and then back to Mississippi.
Once he did a little research into what his ticket was punishable by, he called Greg Hill & Associates and spoke with Greg Hill. The client described to Greg what had happened in Hermosa Beach. Greg then explained how such cases are often, but not always, reduced to an infraction for disturbing the peace, or in the client's case, perhaps trespassing as an infraction.
The client stated he was somewhat concerned about how his case would be viewed because he had a prior conviction for DUI from Mississippi a few years earlier, so this might be considered a second alcohol-related incident and thus, deserving of less forgiveness or leniency.
Greg suggested that the client attend at least ten Alcoholics Anonymous (AA) meetings before the arraignment and give Greg a copy of his AA sign-in sheet to take to court with him for the arraignment.
The client then did attend ten AA meetings and Greg went to the Torrance Courthouse for his arraignment, while the client remained in Mississippi.
Greg and the assigned Redondo Beach City Prosecutor then reviewed the police report and Greg explained how the client was in town merely on business, but was now back in Mississippi, Greg also showed the prosecutor our client's proof of attending ten AA meetings.
The prosecutor's first offer was that our client would have to plea no contest to the misdemeanor 647(f) charge and be placed on informal probation for one year with an obligation to stay away from the home where he was passed out, pay the $358 booking fee and a $250 court fine.
However, upon seeing our client's 10 AA's and learning that he no longer would be anywhere near Pier Plaza and Hermosa Beach, the prosecutor offered a dismissal if our client attended 20 more AA meetings and paid the Hermosa Beach booking fee.
Our client gladly accepted this kind offer, happy that Greg had suggested he attend ten AA meetings to suggest a better plea bargain.
For more information about public intoxication and the issues in this case, please click on the following articles: