Prostitution Sting, 7-11 on Lankersheim, Van Nuys, PDP
Why This Case Summary Matters: While exiting a 7-11 in Van Nuys, client agrees to pay a police decoy, posing as a prostitute, $60 for sex, but was not serious about meeting her for this. He is stopped for solicitation of prostitution and resolves the case with diversion and a dismissal.

Our client, age 40, had no prior criminal history. He was heading to the U.S.A. Fitness gym at 7500 North Lankersheim Boulevard, very near his home. It was about 7:30 p.m., so it was dark out. On the way there, he decided to stop into a 7-11 at Lankersheim and Saticoy to grab a sports drink to drink while at the gym.
On the way out of the 7-11, he noticed a pretty young woman dressed in a black jacket, leopard print shirt, black tights and grey leggings, with brown boots. She caught his eye and he caught hers. She was standing in the parking lot, either waiting for a ride or soliciting clients as a prostitute. She did not have the complexion of a prostitute or the look of someone who may have used drugs for an extended time.
As he was pulling out of the parking lot in his Jeep, our client paused to quickly chat with the woman. He asked her if she was waiting for someone. She said no, she was working. Our client quickly understood that this meant she was a prostitute (or as it turned out, a police decoy posing as a prostitute).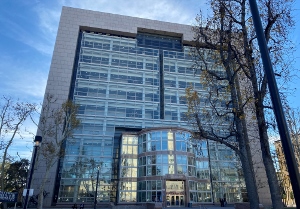 Our client quickly asked the woman if she was a cop and she responded, "Only if you want to role play!" Our client then allegedly got to the point very quickly by asking, "How much do you want?" and she responded "Well, what do you want?" Our client allegedly said he wanted to engage in sexual intercourse (he said slightly different words). She responded by saying "$60, meet me in back!"
Our client then exited the parking lot onto Lankersheim Boulevard and was immediately stopped before he could turn to go "the back" where the prostitute suggested they meet, which would have been silly for our client to agree to when his own home was just fifty meters further away.
He was then immediately stopped by L.A.P.D. officers and issued a ticket for solicitation of prostitution (Penal Code § 647(b)). The officer then took a photograph of our client holding the ticket standing behind his Jeep on the side of the road.
Before leaving, the officer had our client sign a promise to appear in court for the case in about six weeks.
The client was outraged by receiving the ticket. All he had really done is flirted with the prostitute, or the person he thought was a prostitute. He did not intend to have sex with her, but he went through the conversation with her because he was curious what she would say.
He called Greg Hill & Associates and explained the situation. Greg listened to the client describe the facts and stated that the client's movement out of the parking lot was ambiguous for accepting her offer to meet him in back of the store because everyone must exit the parking lot eventually.
On the other hand, our client never told the decoy, "no, that's O.K." or "I can't do that" or anything else similar to signal not being in agreement with furthering their agreement.

Greg then explained how the Van Nuys Los Angeles City Attorneys typically handle these types of cases and that, while human trafficking is more of a concern now than it was five years ago, he believed the PDP (Prostitution Diversion Program) would be offered, with diversion and a dismissal of the case if the client stays out of trouble for six months or a year.

Greg Hill then appeared at the arraignment in the Van Nuys Superior Court on the client's behalf. As Greg hoped, the Los Angeles City Attorney did extend a diversionary offer to our client wherein the case would be dismissed and the police report, as well as the court file, would be sealed if the client attended the PDP and stayed out of trouble for six months.
The judge at the arraignment required that the client appear in person to be advised of the terms and conditions of diversion so there would be no claim later of misunderstanding the requirements.
Accordingly, just a week later, Greg and the client appeared in court and the judge accepted our client's no contest plea to a violation of Penal Code § 647(b), but judgement was delayed for a year (not six months like the City Attorney had advised) and the client was required to attend the PDP and provide an HIV / AIDS test (which is performed at the PDP). The judge further required that our client submit for booking, which our client grumbled about and which Greg had not seen required in prior cases.
Nonetheless, our client did accept the offer of pre-trial diversion and if he completed the terms, the arrest records and court file would be sealed in a year, meaning it would be deleted from public view (law enforcement would remain able to see it).
For more information about prostitution, please click on the following articles:
Contact us.