Prostitution, Hollywood, Bench Warrant Since 2004 Recalled
Our client, now 34, had been arrested in 2004 while in Los Angeles on a vacation from Mississippi. While on visiting friends here, she had been observed by Los Angeles Police Department allegedly performing lewd acts in public (a violation of Penal Code § 647(a)), soliciting for prostitution (Penal Code § 647(b)), and loitering for purposes of prostitution (Penal Code § 653.22) in the area of Hollywood Boulevard, near the intersection with Western Avenue.
She was arrested and taken to jail, where she was released after a night in jail. When being released on her own recognizance ("OR release"), she was asked to sign a promise to appear in court about a month later.

After being released, she returned to Mississippi and pretended like nothing happened in Los Angeles.
However, on the day that she promised to appear in Los Angeles Superior Court (the Bauchet Street Court, or Central Arraignment Court as it is known by most), she did not appear. The judge presiding in the courtroom at that time issued a bench warrant with bail set at $30,000 for her arrest.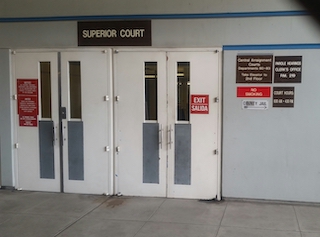 Central Arraignment Court
Our client did not know this happened and after a few years, assumed that the bench warrant would "go away" and the case would be dismissed if the prosecution and police could not find her after a while.
In 2020, sixteen years later, she had moved to Pennsylvania and was applying to work in a loan brokerage office. As part of the job application process, the brokerage ran a background check on the client.
The brokerage discovered that she had a 2004 bench warrant for $30,000 out of Los Angeles Superior Court. The employer advised her that before it could hire her, she needed to have the bench warrant "taken care of" and the case resolved. The employer also told her that it could not hire someone who is on probation.
The client then called several lawyers in the Los Angeles area to discuss her situation. Among those she called was Greg Hill & Associates and explained her predicament to Greg Hill. Greg listened to the client explain how she did not really know what her case was about, but she believed it had to do with prostitution, although there were three charges. She also explained how her employer had told her "take care of" the bench warrant and that it would be tough to be employed if on probation.
Greg explained how he could appear in the Los Angeles Superior Court, at the Clara Shortridge Foltz Criminal Court building (also known as "CCB") at 210 West Temple Street to have the case called. Greg cautioned that it was not guaranteed that the judge would recall the bench warrant from sixteen years earlier without her appearing in person, but that he would certainly try. He explained how some judges would require defendant to appear in person, while others would not.
Greg then explained how he would then try to resolve the three misdemeanor charges relating to prostitution by negotiating a plea bargain to an infraction for disturbing the peace or trespass, but that doing so required the agreement of the Los Angeles City Attorney as well, which was not guaranteed, depending upon his or her view of the facts (and even mood that day).
Greg then appeared the very next workday in the Clara Shortridge Foltz criminal courts building and had the case file brought to a courtroom for a bench warrant recall. Fortunately, Greg knew the judge assigned to the case, from earlier cases Greg had litigated in his courtroom and the judge was friendly. Luckily, too, Greg also knew the Los Angeles City Attorney assigned to the case, who previously had been assigned to the Long Beach Superior Court for many years.
Greg and the prosecutor discussed the police report and why the client was only now taking action to resolve the bench warrant and the underlying case.

Amazingly, the Los Angele City Attorney did agree to dismiss all three misdemeanor charges and allowed our client to enter a plea to an infraction for trespassing, Penal Code § 602(o), so she would indeed not be on any form of probation.

The case was then called and the judge kindly recalled the bench warrant and then the resolution was announced. The Los Angeles City Attorney amended the complaint orally to add a fourth count for violation of Penal Code § 602(o) as an infraction. On behalf of the client, Greg then entered a no contest plea to the infraction and the prosecutor dismissed the three misdemeanor counts.
The client was overjoyed by this result, as it allowed her to secure the brokerage job and support herself and her two young children.
We present this summary with a fair amount of caution: it is not always so easy and we are not always so successful. A great deal of the results we to reach are sometimes simply due to luck, but knowing what we want and treating the prosecutors with respect does help.
For more information about the issues in this case, please click on the following articles: