Prostitution, Downtown LA Motel, Client Meets Police Decoy
Our client, age 25, worked for the U.S. Post Office. He was in his fourth year there and planned on making it a career.

This future was jeopardized one Friday afternoon when he went to LiveEscorts.com and decided to meet with one of the ladies offering her services. He browsed through many of the advertisements and then decided on one that showed a photograph of herself that he found attractive.
Our client was not married, so he was unconcerned about "cheating" on a wife. He also was not in any relationship with a girlfriend. He had no prior criminal history (which is one reason he got the job with the Post Office) and was unaware that police decoys often used such websites to make arrests of men seeking to exchange money for sex.
In a series of text messages with a person our client believed was a prostitute, but who was really a police officer, the two agreed upon our client paying $80 for intercourse. It was now about 6:00 p.m.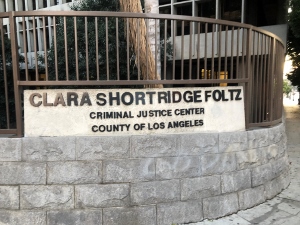 The prostitute / police officer then gave our client the address to the Vagabond Inn on Figueroa Street near the University of Southern California. The motel is one our office sees used by the Los Angeles Police Department frequently for such sting operations. There is plenty of parking in the parking lot of the two-story hotel. As it is near U.S.C., within walking distance of the school, the hotel is in good condition.
She (our client believed the prostitute was female) instructed our client to meet her in a specific room. Our client pulled into the Vagabond Inn and sat in his car for several minutes. He was extremely nervous.
He finally got out of his car and walked toward the room the decoy described herself as in, waiting for him.
As he got about twenty feet from the door, however, he got "cold feet" and turned around. He headed back to his car, deciding not to follow through with the meeting.
As he was walking to his car, two police officers rushed up to him. One grabbed him by his left arm and one grabbed him by his right arm. They asked him to identify himself and he did. They asked if he had come to the hotel to meet with the named "escort." He admitted he had.
He was then issued a ticket for solicitation of prostitution, Penal Code § 647(b), and asked to sign a promise to appear at a later date in the downtown Los Angeles Superior Court at 111 North Hill Street (the Clara Shortridge Foltz criminal courts building).
The following day, the client called Greg Hill & Associates and described what happened. The client's biggest question was how he could be charged with solicitation of prostitution if he turned around as he did before meeting the decoy. Greg explained how one could be charged with solicitation of prostitution by first, reaching an agreement with another to exchange money or something of value for sex and then, second, taking a substantial step in furtherance of the agreement.
Greg explained that the client's act of going to the Vagabond Inn, parking and getting out of his car was most likely something a jury would consider a "substantial step" toward fulfilling his agreement to pay $80 for sex, however, a jury may struggle with this nonetheless.
The client then retained Greg Hill & Associates to defend him. Greg Hill then wrote letters to the Los Angeles City Attorney's Office and the Los Angeles Police Department, explaining that this case should not be filed because a jury would most likely find that our client had abandoned his intent to commit prostitution and that the police knew this, but arrested our client anyways. Greg argued that the jury may not appreciate the police wasting valuable government resources arresting someone who had decided against actually paying the prostitute, so the prosecution would seem desperate.
After writing such letters, no response was received.
Greg then appeared at the Clara Shortridge Foltz courthouse for the client's arraignment, only to find that no case had been filed. The client was extremely relieved and happy that his job was not going to be affected by this incident.
For more information about solicitation of prostitution, please click on the following articles:
Contact us.