Prop 64 Motion to Reduce Felony Drug Sales, Downtown LA
In 2000, our client was going through a rough patch. He was using multiple illegal drugs, living on the streets of Los Angeles and selling marijuana to just make ends meet. In 2000, Proposition 64 had no yet passed to make the adult use of marijuana legal and many marijuana-related crimes were felonies, rather than misdemeanors.
On one afternoon in the years 2000, he was arrested at a Santa Monica long-term hotel at Third and California Streets when Los Angeles Sheriffs, posing as a marijuana user, set up a buy of 100 grams and arrested our client for felony sales of marijuana (Health & Safety Code § 11358).
He was taken to the Lennox station at the time and then opted for the use of a public defender at the Clara Shortridge Foltz criminal courts building in Downtown Los Angeles. He then agreed to a plea bargain for felony sales of marijuana and punishment including a county jail term of one year. This was his first conviction for violating § 11358.
After he got out of county jail, he returned to the same life of living on the streets and eventually was arrested by federal authorities for several federal drug sales crimes and served a four-year term in federal prison.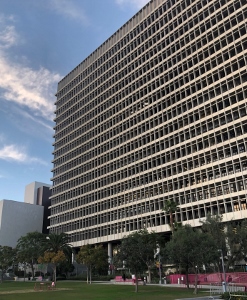 He was later released and subsequently arrested again one year later by federal authorities on similar charges and served a further three-year term in federal prison.
Upon being released, he moved back home to Boston and found a job working as a food server in a restaurant in Boston. It was legal employment and he felt good, but he also could see that due to his history, he may never be promoted or find a better job.
When Proposition 64 passed in California, he read about it with some interest, but did not speak to any attorney about having his conviction for violating 11358 reduced to a misdemeanor.
Now age 60, he finally decided to finally call Greg Hill & Associates and ask about reducing his felony to a misdemeanor under Prop 64.

He explained that he had served time in prison twice after the crime, but Greg said that the statute only excluded reduction to those who had a conviction for a "super strike" under Penal Code § 667(e)(2)(C)(iv), were registered sex offenders prior to the violation, those who had two or more prior convictions for sales and those whose reduction would pose a risk to public safety. None of those applied to our client and once the charge was reduced to a misdemeanor, he could have it expunged from his record.
The client was quite excited about this, as he wanted to leave his job as a food server to become a realtor. Greg cautioned that he thought the federal convictions would prevent that, which the client said he understood, but he still wanted to move forward with the reduction of his felony in California to a misdemeanor and expungement of it (because it would be punishable by less than a year in county jail).
Our client had turned his life around since moving back to Boston. He had become an Alcoholic Anonymous group leader five days a week and volunteered his time at two local jails mentoring inmates on various life skills.
Greg Hill & Associates then prepared a motion for reclassification of a felony to a misdemeanor under Proposition 64 with a declaration from our client attached thereto. The motion laid out the law for the judge and the declaration showed that granting the motion was the "just thing to do."
Greg Hill & Associates then filed the motion at the Clara Shortridge Foltz criminal courts building and served the motion to the District Attorney's office there.
The district attorney's office did not oppose the motion, but did comment that our client's case served as a good example of how much of a subsequent criminal history one could have without being disqualified under the new law for relief.
The judge handling the matter granted the motion and even sealed the arrest record and court file, which was very nice of him. This technically made expungement unnecessary if the record was being removed from our client's DOJ history, but Greg filed the petition for dismissal under 1203.4 nonetheless. Our client was extremely happy with this result.
For more information about Proposition 64, please click on the following articles:
Contact us.