Prop 57 Not Retroactive for Juvenile While Appealing?
The Gist of this Article: Proposition 57's provisions for mandatory filing of all cases against juveniles in juvenile court first are not retroactive to juvenile cases wherein judgement (the sentence) is final.

Our office has received several calls from family members of folks convicted as a juvenile of a very serious crime (i.e. murder, carjacking, rape, mayhem, etc.) in adult court. The family member will tell us he or she heard that the law recently changed to prohibit this or that such a conviction can be appealed because juvenile court instead is where the case should have been adjudicated, not adult court. The person is usually referring to Proposition 57.
The significance of this distinction between adult court and juvenile court is punishment. In juvenile court, the focus is on rehabilitation and helping the juvenile continue his or her education, so punishment is generally very light, but can be a maximum of five years in a youth detention facility. In adult court, the goal of sentencing is different: punishment, victim restitution, deterrence of others are emphasized and rehabilitation takes a back seat. Punishment in adult court is much greater and can include a terminal sentence, i.e. a sentence of death or life in prison without the possibility of parole.
The caller is usually partly correct on the issue, but may be incorrect in his understanding of what his incarcerated family member can do now. The caller usually appreciates that he or she does not understand the nuances of Prop 57, which is why the call is made. The caller wants to know if a lawyer "can do something" for the person sentenced in adult court, perhaps as long as twenty or thirty years ago.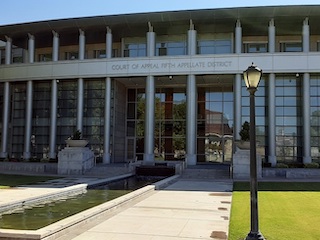 Court of Appeal Fifth Appellate District Fresno
A bit of history on juvenile filings is helpful to understand the current state of the law on where a serious case against a juvenile can be filed. Until 1999, California did not allow a prosecutor to file a criminal complaint against a juvenile directly in adult court because there was a presumption that a juvenile was unfit for the punishment that was possible in adult court, i.e. life in prison, death, being sent to a prison with mature adults, etc.

In 1999, however, things changed when the California legislature added Penal Code § 602 to allow the direct filing of specific types of criminal cases against those sixteen years and older in adult court. The next year, voters passed Proposition 21, which permitted prosecutors to directly file cases in adult court against juveniles ages 14 and older.
In 2016, however, the tide shifted and voters passed Prop 57, which undid Prop 21 and provided a mandatory fitness hearing for juveniles before a prosecutor could file a criminal case against a juvenile in adult court. It the juvenile was found fit for adult court, the prosecutor could then file the criminal case against him or her in adult court.

Prop 57 contained no language allowing retroactive application of it to earlier convictions obtained in adult court without a fitness hearing first taking place. Without a statutory provision in Prop 57 allowing retroactive application, the presumption is that it only applies prospectively.
This general policy against retroactive application seems to create a conflict with another general policy under California law (In re Estrada (1965) 63 Cal.2d 740) that provides for retroactive application of a law when it reduces the punishment for any particular crime (unless it specifically forbids this in the statute). However, Prop 57 really does not specifically provide for lower or lesser punishment directly, so courts have held that Prop 57 is not retroactive for juveniles convicted in adult court.
This background is helpful to understanding the Merced County case of Ryan Suarez, wherein it was alleged that when he was fifteen years old in 2013, he committed murder using a firearm and for the benefit of a criminal street gang. Mr. Suarez was convicted in adult court of first-degree murder and the jury found true the criminal street gang and firearm allegations. He was sentenced to 50 years to life in state prison.
Mr. Suarez then appealed his sentence to the Fifth Appellate District court, alleging multiple errors in the underlying trial. This article will only address his argument that Prop 57 (passed three years after his conviction) is retroactive and thus he was entitled to equal protection under the law to a fitness hearing to possibly transfer his case back to juvenile court for further proceedings, thus vacating his conviction and sentence.
The Fifth Circuit Court of Appeals ruled that Estrada and Prop 57 would not apply to entitle him to a fitness hearing and then, possibly have his case transferred to juvenile court. The Fifth Circuit reasoned that because Suarez's appeal was not yet final on other grounds, his argument that Prop 57 applied immediately to move his case "back to square one" was premature insofar as the judgement was still under appeal on other grounds. Such an argument by Suarez would have to be made later, if at all, depending upon how the court ruled on the other issues under appeal.
We understand the position taken by the court of appeal and present this article for those folks with family members who were convicted as juvenile in adult court to understand that Prop 57 is written to only apply to pending juvenile matters as of the date Prop 57 came into effect, November 1, 2016. The opinion in the case, People v. Ryan Osmen Suarez, can be read at 2018 DJDAR 11517.
he citation for the Fifth Appellate District Court ruling discussed above is People v. Ryan Suarez (5th App. Dist., 2018) 17 Cal.App.5th 1272.

For more information about application of Prop 57 to juvenile cases, please click on the following articles:
Contact us.