Prop 57 Requires a Fitness Hearing for Juvenile's Retrial
As of mid-March, 2017, the CDCR has still not promulgated procedures or criteria for implementing those areas of Proposition 57, the Public Safety and Rehabilitation Act of 2016, that apply to adults convicted of nonviolent offenses serving time.
The Gist of this Article: The juvenile filing mandates of Prop 57 are not retroactive, but if the People retry any portion of a case originally filed in adult court, that portion of the case must be filed first in juvenile court.

The provisions of Prop 57, however, that apply to juveniles are not dependent on CDCR action. Proposition 57 "undid" Proposition 21, which permitted direct filings of criminal cases against juveniles in adult court. With Prop 57, the charging instruments for all juvenile crimes must be filed in juvenile court, pursuant to the new version of Welfare and Institutions Code § 602 that Prop 57 established. Prosecuting attorneys can then invoke Welfare and Institutions Code § 707(a)(1) to have a "fitness hearing" for the judge to decide if the case should stay in juvenile court or be moved to adult criminal court.
Whenever new laws are passed, there is an issue of whether the law applies retroactively when the statute is silent on this issue. Proposition 57 is silent on this issue.
Obviously, if Prop 57 is retroactive on this provision, every juvenile conviction obtained in adult court through a direct filing in adult court would be subject to an appeal for violating Prop 57. Indeed, under
In re Estrada
(1965) 63 Cal. 2d 740, the California Supreme Court held that if there is a legislative reduction in a statutory penalty for a crime, it must be applied to all non-final cases.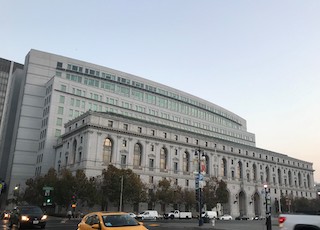 Court of Appeal First Appellate District San Francisco
In the case of Alexander Cervantes, this provision of Prop 57 were put to the test. When age 14, Cervantes was arrested for attacking a 13-year-old girl and her 20-month-old brother, who were siblings of one of his friends. After breaking into their home in the middle of the night, he stabbed them repeatedly as they slept, raped and sodomized the girl, forced her to orally copulate him and then he passed out during the attack.

Cervantes had been drinking heavily that evening. His defense was that voluntary intoxication negated his specific intent, rendering him without the mental capacity to form the specific intent required ("diminished capacity" has been abolished in California, being somewhat replaced by "diminished actuality").

He was convicted of fifteen charges, including various sex offenses, first-degree burglary and two counts of attempted murder, torture and aggravated mayhem. He was sentenced to 50 years to life under the one-strike law (Penal Code § 667.61), and a consecutive 11-year determinate term for attempted murder, plus a consecutive life term for the second attempted murder.

Cervantes appealed the conviction and sentence on many grounds, but this article will only focus on his argument that Prop 57 requires his case be remanded for a "fitness hearing" to the juvenile court, which he argues had "exclusive jurisdiction" over any trial of the offenses charged unless it determines, that the case should be transferred to the adult criminal court, and, further that a remand for retrial on any of the counts he was convicted for requires vacatur of all the convictions and retrial. He argued, in other words, that Prop 57 is retroactive.

The First Appellate Court, in People v. Alexander Cervantes (2017 DJDAR 2226) disagreed. It held that Prop 57 was not retroactive, but that Prop 57 requires a remand to juvenile court for a "fitness hearing" on any reversed count that the People decide to retry.

The appellate court disagreed with Cervantes' main argument that Prop 57 was retroactive under In re Estrada (1965) 63 Cal. 2d 740. Estrada held that a legislature reduction in the statutory penalty for a crime must be applied to all non-final cases.

The appellate court disagreed with the application of Estrada to Prop 57 because jurisdiction over juvenile offenders is concurrent between the juvenile and adult courts, so punishment is not always reduced. Moreover, new statutes are applied prospectively only, "absent an express declaration of retrospectivity or a clear indication that the electorate or the Legislature intended otherwise." Tapia v. Superior Court (1991) 53 Cal. 3d 282, 287; see also People v. Brown (2012) 54 Cal. 4th 314, 319-23.

However, the appellate court did agree with Cervantes that Prop 57 would require a fitness hearing for any count reversed and for which the People sought a retrial.
The citation for the First Appellate District Court ruling discussed above is People v. Alexander Cervantes (1st App. Dist., 2017) 9 Cal.App.5th 569.
For more information about issues, please click on the following articles:
Contact us.