Prop 57: CDCR Has Broad Discretion on Conduct Credits
On August 10, 2017, Macanthony Canady was sentenced by a judge in San Luis Obispo County Superior Court to four years in state prison for DUI with priors (Vehicle Code § 23152), which was two years doubled for a prior conviction for a serious or violent felony, also known as a "Strike" prior under California's Three Strikes Law.
About This Article Briefly: The Third Appellate District agreed with the CDCR that good conduct credits to not apply toward one's Prop 57 early parole eligible date.

On September 6, 2017, he was received by the California Department of Corrections and Rehabilitation (CDCR) and began serving the four-year term, which is 1,461 days (with one extra day added for a leap year in 2020). The CDCR recognized that the sentencing judge had awarded Canady 136 days (68 days actual custody, plus 68 more conduct credit days, pursuant to Penal Code §§ 2900.5(a), 4019) and awarded him an additional 26 from the sentence date, plus 13 more conduct credit days, or 39 more, leaving him with 1,296 days to serve, with him being eligible for release on parole or post-release community supervision no later than after serving 50%, or at roughly 648 days. One can calculate this as being June 16, 2019.
The CDCR calculated Canady's early parole eligible date as June 4, 2019, which was oddly calculated as two years from the date Canady was received by the CDCR, less 94 actual days, which was the 68 he served pre-sentence and 26 post-sentence days actually spent in custody before being received by the CDCR. No conduct credits were applied to calculate the early parole date.
Curiously, Canady then filed a petition for writ of habeas corpus in the San Luis Obispo Superior Court, challenging the CDCR's calculation of his nonviolent parole eligible date on grounds that the CDCR denied him the benefit of his conduct credits.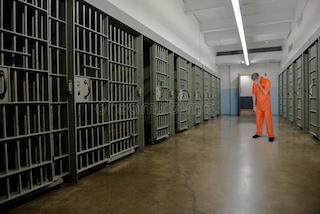 Prison Photo
The petition was transferred to the Sacramento Superior Court, which issued an order to show cause and the CDCR filed a return. Canady then filed his traverse in response to the CDCR return.
The Sacramento Superior Court granted the habeas petition, concluding that Proposition 57 requires the CDCR to apply conduct credits when calculating an inmate's early parole eligible date. It then directed the CDCR to recalculate Canady's parole eligible date by applying conduct credits toward the parole eligible date.
The CDCR then filed a writ of supersedeas to stay enforcement of the trial court's order pending appeal and appealed to the Third Appellate District.
The Third Appellate District reversed, finding that the CDCR's calculation was consistent with Proposition 57.
It did so by first explaining that that Proposition 57 provides, "(1) Parole Consideration: Any person convicted of a nonviolent felony offense and sentenced to state prison shall be eligible for parole consideration after completing the full term for his or her primary offense." Prop 57 continues, stating "(A) For purposes of this section only, the full term for the primary offense means the longest term of imprisonment imposed by the court for any offense, excluding the imposition of an enhancement, consecutive sentence or alternative sentence."
As to credit earning, Prop 57 states, "(2) Credit Earning: The Department of Corrections and Rehabilitation shall have authority to award credits earned for good behavior and approved rehabilitative or educational achievements." This section continues, stating that the CDCR "shall adopt regulations in furtherance of these provisions."
The CDCR then issued regulations implementing Prop 57 at California Code of Regulations, Title 15, section 3490 and 3491. These provisions defined "full term" as "the actual number of days, months, and years imposed by the sentencing court for the inmate's primary offense, not including any sentencing credits" (§ 3490(e)). Subdivision (f) on the same section calculates an inmate's parole eligible date as the date the inmate "has served the full term of his or her primary offense, less any actual days served prior to sentencing . . . and any actual days served in custody between sentencing and the date the inmate is received by the department."
In its appeal, the CDCR argued and the Third District agreed that voters, in approving Prop 57, did not intend Prop 57 to require the application of conduct credits towards an inmate's early parole eligible date. After all, a prisoner can lose conduct credits ("forfeit") if the prisoner receives infractions for behavior violations while in custody. Moreover, the term "full term" implies a term excluding any reduction for conduct credits.

We present this article for the reader's information, as we receive a lot of phone calls about how to calculate an inmate's parole eligibility date and there is a common interpretation of this according to the logic employed by Canady here, but the Third Appellate District has ruled that this is incorrect.
The citation for the Third Appellate District Court ruling discussed above is In re Macanthony Canady (3d App. Dist., 2020) 57 Cal. App. 5th 1022, 272 Cal. Rptr. 3d 88.
For more information about conduct credits and Prop 57, please click on the following articles: