Do Conduct Credits Change After My Case Reduced Per Prop 47?
It is commonly understood that Proposition 47's benefits eliminate all consequences of having a felony conviction. Our office has spoken with many potential clients and even other attorneys who do not know which felony offenses Prop 47 applies to and that certain prior convictions can disqualify the individual from the benefits of Prop 47 (even when the charges qualify).
In a Nutshell: If a conviction is reduced from a felony to a misdemeanor under Prop 47, conduct credits do not change (increase) if defendant originally sentenced to a strike offense and an offense eligible for reduction under Prop 47, as the following case summary explains.

The following case involving Mr. Kevin Mallard, who was serving time in state prison for a carjacking (Penal Code § 215(a)) conviction, as well as a probation violation of a case involving possession of concentrated cannabis (Health and Safety Code § 11357(a)), both felonies.
The facts of the case are important to understand toward appreciating how Proposition 47's benefits were limited in this case.
In July of 2013, Mr. Mallard went to the county jail to visit a friend. He was searched at the jail and found to have 3.6 grams of concentrated cannabis in his pocket. He then entered a plea to a violation of Health and Safety Code § 11357(a) and was placed on three years of felony, formal probation under Prop 36 (Penal Code § 1210.1).
Two months later, Mr. Mallard pulled an elderly woman out of her SUV and drove away. After about a year of fighting the case, he was convicted of carjacking (Penal Code § 215(a)). He was then sentenced to three years in state prison.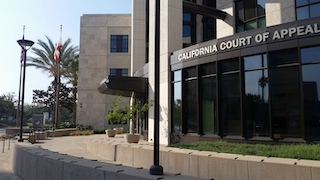 Court of Appeal 4th District Division 3 Orange County
On the same day as his sentencing for the carjacking, the trial court sentenced him to eight months for his violation of probation on the possession of concentrated cannabis charge. The eight months was to run consecutive to, not concurrent with, his carjacking sentence of three years. The trial court noted that Mallard had served fourteen actual days on the cannabis charge and gave him two days of conduct credit (15 percent) under Penal Code § 2933.1, based on the carjacking conviction.

Probation 47 was then passed about two months later in November, 2014. Mr. Mallard then filed a petition for recall of his marijuana charge, which was eligible for resentencing under Prop 47. The judge granted the petition and resentenced the conviction as a misdemeanor, but kept the sentence at 240 days to run consecutive to the three year carjacking term.

In 2016, once Mr. Mallard completed 85% of his three-year term for carjacking, he was transferred to a jail to serve the remaining consecutive term of 240 days. His projected release date was set in 2017, based on fifteen percent being applied.

Mr. Mallard then filed a motion to receive 50 percent conduct credits under Penal Code § 4019 for his possession of marijuana jail term and not to be limited to fifteen percent, as under Penal Code § 2933.1, based on the carjacking conviction.

The trial court denied the motion, finding that People v. Hamlin (2009) 170 Cal. App. 4th 1412 applied, as the eight-month sentence was imposed at the same time as the three year term.

Mallard appealed this ruling. The Fourth Appellate District, in In re Kevin Dwayne Mallard (2017 DJDAR 840) denied the appeal, affirming the trial court. The court explained first how a conviction for carjacking is a violent felony listed under Penal Code § 667.5(c) and that once the person is sentenced to state prison, as Mallard here, the person's presentence and post sentence conduct credits are both limited to fifteen percent. People v. Valenti (2016) 243 Cal. App. 4th 1140, 1184.

The court noted that section 2933.1 applies to the offender and not the offense. Thus, the conduct credits apply to all counts of the convictions that encompass the prison term, regardless of whether each court falls under § 667.5. Valenti, supra, at 1184, People v. Jacobs (2013) 220 Cal. App. 4th 67, 77. In Hamlin, supra, the court addressed the situation where, as here, defendant is sentenced on a misdemeanor, and held that the fifteen percent credit applied to the misdemeanor sentences as well.

Consequently, the appellate court affirmed the application of section 2933.1 to the felony-turned-misdemeanor sentence.

The citation for the Fourth Appellate District Court ruling discussed above is In re Kevin Dwayne Mallard (4th App. Dist., 2017) 7 Cal.App.5th 1220.