Professional Soccer Player, Public Urination, Infraction
Our client, age 21, was on the verge of heading to Europe for tryouts for a European soccer team that he was quite excited about.

Throughout high school, he had played soccer on the Galaxy Academy team, a prestigious honor, and then as a college freshman, he played Division 1 soccer for San Diego State University. As a sophomore, he transferred to Cal State Northridge, where he played for its team before his present job as a professional soccer played for a Mexican team.
Now his big break had arrived and he went down to Hermosa Beach to celebrate with friends. He drank a lot, but dared not drive home. Instead, he called an Uber and was walking to the corner where the Uber driver planned to meet our client before taking him home.
As our client was walking to the corner, he began to feel the need to urinate. His Uber ride app on his phone showed the Uber driver was only two minutes away. It was about 1:30 a.m., so our client knew he could not go back to the bar to urinate. So, near the 200 block of Pier Avenue, our client found a wall near some bushes and decided to quickly urinate.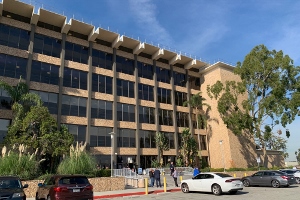 A roving Hermosa Beach police officer saw our client urinating onto the wall near the bushes and decided to stop our client once he finished. As our client finished, the officer approached our client and asked him if he had just urinated. Our client apologized and said he did not know it was illegal.
The officer then asked our client for his driver's license and began writing out a ticket by completing the information on the yellow ticket book he had. Our client was shocked and upset that the officer did not just warn him not to do so and let him go.

The officer finished completing the ticket and then asked our client to sign a promise to appear in the Torrance Superior Court in about six weeks. Our client signed on the line and was handed a pink copy of the ticket. Our client said the whole experience was so fast that he actually still met with the Uber driver he originally had arranged for with a ride.
The client then called Greg Hill & Associates because the client understood the ticket was for a misdemeanor and the client was concerned about whether such a conviction would affect his travel to Europe.
The client explained what had happened and Greg told the client that a conviction, even for a misdemeanor public nuisance charge would not affect his ability to leave the United States, however, being on informal probation after a misdemeanor conviction might affect his ability to enter certain countries. Therefore, if this were to happen (which Greg thought it would not), the client would need to consult with an immigration attorney for the country our client planned to enter. The client had no other prior criminal history at all.
Greg further explained that he did not think this would be an issue for the client, based on Greg's experience handling such cases in the Torrance Superior Court. Greg recommended that the client attend ten meetings of Alcoholics Anonymous (AA) prior to the arraignment and give Greg the attendance sheet to take to court on his behalf. Greg explained that in the past, such a case would be resolved as an infraction level violation of Penal Code § 415(2), making a loud noise in public, disturbing the peace, not a misdemeanor.
The client then did attend ten AA meetings as Greg recommended and Greg appeared on the client's behalf for his arraignment.

Like Greg explained was likely to happen, the Redondo Beach City Prosecutor agreed to amend the complaint (add to it) to allege a second count for violation of Penal Code § 415(2) as an infraction if our client made a $550 "donation" to the Hermosa Beach Nuisance Abatement Fund. She kindly agreed to waive the $10 court fee, plus penalties and assessments, which would have been about $175, because our client had attended ten AA meetings.
Our client then quickly paid made the $550 "donation" to the City of Hermosa Beach and Greg appeared again in the Torrance Superior Court, where the misdemeanor was dismissed and the case was resolved as an infraction, greatly easing our client's worries.

For more information about public urination issues, please click on the following articles:
Contact us.