Is a Misdemeanor Arrest Legal If the Officer Saw Nothing?
Penal Code (PC) § 836(a)(1) provides that arrests for misdemeanors, without a warrant, are only lawful if the conduct violating the law occurred in the presence of the police officer. This means that the officer must have personal knowledge that the offense was committed by seeing it, hearing it, smelling it or feeling evidence of it.
This is a good law because no one should overlook that an arrest is a public act that "may seriously interfere with the defendant's liberty, whether he is free on bail or not, and that may disrupt his employment, drain his financial resources, curtail his associations, subject him to public obloquy, and create anxiety in him, his family and his friends."
United States v. Marion
(1971) 404 U.S. 307, at 320, 30 L.Ed.2d 468, at 478-479, 92 S.Ct. 455. We also recognize that a pending misdemeanor complaint may cause disruption of one's life by affecting one's credit rating, job applications, admission to schools and other activities in which background checks are routine.
Serna v. Superior Court
(1985) 40 Cal.3d 239, at 261, 219 Cal.Rptr. 420, 707 P.2d. 793. So requiring an officer to witness the criminal conduct imposes a minimum standard before an arrest is made.
The Reader's Digest Version: Under Penal Code § 836(a)(1), an officer must observe conduct that is a misdemeanor to arrest the suspect, however, there are dozens of exceptions to this rule. Nonetheless, a good attorney will first and foremost keep 836 in mind and then see if there is an applicable exception.

We find that no other statute has caused so much confusion. Indeed, there are many exceptions to this general rule, but section 836 is the starting point: an arrest for a misdemeanor must be based on the officer usually watching the crime take place.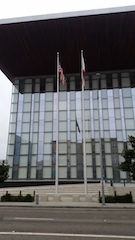 Long Beach Courthouse
Indeed, the exceptions essentially swallow up the rule. Vehicle Code § 40300.5 lists exceptions to that requirement in DUI cases. It states that police may make a warrantless arrest in a DUI following a traffic accident. The officer may also arrest someone on suspicion of DUI if the officer believes the person will injure themselves or others, destroy evidence or will flee the scene to avoid arrest. These exceptions, one can see, cover the majority of DUI cases.
Other exceptions follow. An officer can make a warrantless arrest for misdemeanor battery on school grounds (Penal Code § 243.5), upon a firefighter, emergency medical technician or paramedic based only on the report of this. An officer can arrest someone without a warrant for carrying a loaded firearm (Penal Code § 12031(a)(1)) or a concealed weapon at an airport (Penal Code § 12025).
An arrest can also be made without a warrant for someone violating a restraining order, whether the order be for civil harassment under California Code of Civil Procedure § 527.6, domestic violence under Family Code § 6200, stalking under Penal Code § 646.91 or in a family law context under Welfare & Institutions Code § 213.5.
Likewise, an arrest without a warrant can proceed without the officer witnessing the conduct when the offense claimed is domestic violence or elder abuse.
However, how long after the reported crime must the arrest take place? After all, what if the conduct took place months earlier? Can the officer nevertheless still arrest someone without a warrant?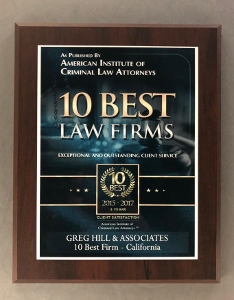 The answer to this is that there is no clear time limit, like as a statute of limitations. However, there is a "stale misdemeanor rule," which generally says that the officer must act promptly upon receiving the report, if he is to act at all. Jackson v. Superior Court (1950) 98 Cal.App.2nd 183, 187 (waiting a day makes the arrest illegal). This rule also applies to private citizens acting under Penal Code § 837; see also Green v. Department of Motor Vehicles (1977) 68 Cal.App.3rd 536 (arrest made some 35 to 40 minutes after the observation held to be lawful); Ogulin v. Jeffries (1953) 121 Cal.App.2nd 211 (20 minute delay and the arrest was considered lawful.).
In other words, it is prudent to think twice before asserting a defense that a warrantless arrest for a misdemeanor is unlawful. There are many exceptions to the rule that an officer must have personal knowledge of the conduct.
For more information about how cases are charged and the criminal process in general, click on the following articles:
Rape Conviction Overturned Because Judge Mistakenly Allowed Kidnapping Victim to Testify About Uncharged Act
Contact
Greg Hill & Associates