Procedure for Identifying & Questioning Witnesses to a Crime
In criminal matters, there is a right to know who the prosecution intends to call at trial. Penal Code § 1054.1(a), (f);
Izazaga v. Superior Court
(1991) 54 Cal.3d 356, 376 n 11, 285 Cal. Rptr. 231.
This specific right stems from a more general due process right owned by defendants facing a loss of liberty to be protected from a "trial by ambush."
In
re Littlefield
(1993) 5 Cal.4th 122, 19 Cal. Rptr. 2d 248. The discovery statutes of our state have the purpose of promoting the ascertainment of truth by allowing both sides to know what the evidence is, preventing undue delay (especially if the accused is in custody awaiting trial, i.e. not released on bail or own recognizance release), saving court time and preventing harassment of not only parties to a case, but witnesses.
Brief Synopsis: To obtain the identities of witnesses the prosecution intends to call at time of trial, one should request this in writing, under Penal Code § 1054.1, early in the case. In interviewing any witness, it is best for the attorney to use a private investigator, who must follow certain procedures, as described in this article.

The rights owned by defendants are not a "one way street." Defendant has a reciprocal duty to the prosecution to provide the prosecution certain evidence as well (there are exceptions to the reciprocal nature, i.e. in probation revocation proceedings and in juvenile delinquency proceedings).
This article will focus on the narrow area of discovery concerning witnesses the prosecution intends to call, as this is an important area because so many crimes distill down to a "he said, she said" analysis.
The starting point on such analysis is understanding that the prosecution has a duty to reveal information about witnesses it intends to call at trial. Penal Code § 1054.1(a), (f);
Izazaga, supra
. Gamesmanship in disclosing such witnesses to the defense is to be avoided; good faith should be exercised in revealing such witnesses.
People v. Tillis
(1998) 18 Cal.4th 284, 293; 75 Cal.Rptr.2d 447. Sandbagging, in other words, is not supposed to be the method of disclosing such witnesses at the last minute.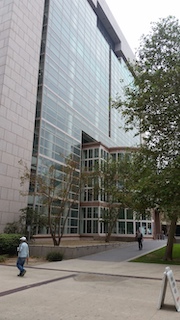 Van Nuys Courthouse
The disclosure of the identity of such witnesses includes the disclosure of the witness' address, to the extent it is known or reasonably accessible to the prosecution.
In
re Littlefield
(1993) 5 Cal.4th 122, 19 Cal.Rptr.2d 248. Once defense counsel receives such information, he or she cannot pass this along to the defendant or anyone else, unless specifically permitted to do so by court after a hearing and a showing of good cause (Penal Code § 1054.2(a)(1)). The attorney, however, can provide such disclosures to a private investigator or a law firm employee when such disclosure is required. Willful violation of these requirements is a misdemeanor. Penal Code § 1054.2(a)(3).
If the defendant is representing himself or herself (is in "pro-per"), the judge must try to protect the addresses and telephone numbers of the victim or witnesses by allowing contact only through a court-appointed private investigator, or imposing other restrictions. Penal Code § 1054.2(b). The judge can also simply deny defendant any pretrial discovery when there is a specific showing of danger to the witness. Penal Code § 1054(d), 1054.2 and 1054.7;
Alvarado v. Superior Court
(2000) 23 Cal.4th 1121, 1134, 99 Cal.Rptr.2d 149 (witnesses to Mexican Mafia "hit" in serious danger).
If defense counsel or a private investigator hired by defense counsel makes contact with the witness or the victim, that person does not assure a conversation because such witnesses or victims cannot be compelled to talk to defense counsel or investigators. Likewise, a prosecutor or the police cannot order a witness or victim to refuse to talk to the defense.
People v. Pitts
(1990) 223 Cal.App.3d 606, 872, 273 Cal.Rptr. 757.
The interviewer, once he makes contact with the witness or victim, must identify himself or herself by stating who he represents, or who he has been retained by stating the name of the party in full and the full name of the law firm or the agency with which he or she is employed. The interviewed must also provide a business card, official badge or other form of identification. Penal Code § 1054.8(a). Failure to do this can result in discovery sanctions against the party involved. Penal Code §§ 1054.5 and 1054.8(b).
Once the investigator or the attorney, including those representing the prosecution, elicits a statement or a written report, or a recorded statement, that must be shared with the opposing party.
However, the prosecutor does not have a duty to disclose statements made by an opposing witness, unless it is otherwise discoverable as exculpatory evidence. This means if the prosecution interviews a defense witness and that witness is bad for the defense, the prosecutor does not need to produce this.
Izazaga, supra
, at page 377, n14.
In other words, the rules on disclosure of witness information and statements are intended to facilitate resolution of the case and disclosure of facts, subject to safety concerns for witnesses and also subject to limited exceptions.
For more information about witness testimony issues, please click on the following articles:
Seven Years to Life Sentence for Dissuading a Witness for Benefit of a Gang Reversed Because No Force Threatened
Contact us.