Probation Violation, Long Beach, 16 Year Bench Warrant
Our client had been arrested after a routine traffic stop along Ocean Avenue in Long Beach when he consented to the Long Beach police looking through his car. Inside the center console was drug paraphernalia, including a small straw used to snort cocaine, a small mirror to put the cocaine on to snort it from and a small razor blade to cut the cocaine into a powder.

When police found these items in a small pouch, but no cocaine, they asked our client what the items were for and he candidly explained exactly what they were used for. He admitted to occasionally using cocaine. He did so, unaware that mere possession of drug paraphernalia was a crime (Health and Safety Code § 11364.1(a)). He was then, much to his surprise, arrested on suspicion of violating 11364.1(a), a misdemeanor.
He was taken to the Long Beach police station, booked and released on his own recognizance (OR release) after he signed an agreement to appear in the Long Beach Superior Courthouse in about eight weeks. He did not have to post a bond.

The client was upset that he was arrested for something he did not think was illegal.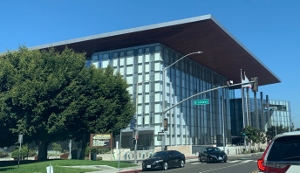 He then appeared in court, still miffed about the crime, pled guilty at the arraignment and agreed to being on three years of informal probation and payment of a fine of $450 plus penalties and assessments (total $2,095).
Before he could pay the fine, he agreed to pay, he was offered a job in a warehouse in Minnesota and left California for Minnesota. He thought that if he did not pay the fine in California, the court might give up on trying to recover the fine from him.
This seemed to be true, as for the next sixteen years, he never heard about the Long Beach Superior Court case. However, unbeknownst to him, when the deadline came for his payment of the fine, after a year following his plea bargain, the judge revoked his probation and issued a bench warrant for him.
The client did not know about this at all. He thought everything was fine. He applied for and was given a Minnesota driver's license. He then had been stopped by police several times and each time, the police searched for warrants for him using his name and date of birth. Nothing ever showed up.
One day in 2019, however, he was applying for a job and the customary background check was performed on him. The employer advised him that there was a bench warrant for him out of the Long Beach Superior Court. Our client knew what this was for and called Greg Hill & Associates.
He explained what he remembered happening from sixteen years earlier. Greg then went to court and got a photocopy of the docket on the client's case. Greg explained that the client had completed just over a year of probation before his probation was revoked for nonpayment of $2,095 in court fines and fees.
Greg explained that he could go to the Long Beach Superior Court on the client's behalf and offer to pay the outstanding court fines and fees, if the client could pay. Greg would then ask the judge to have probation reinstated, but this would mean two more years of being on informal probation, which might hurt his employment opportunities.

The client agreed to pay the overdue fines and fees and send Greg to court to have the bench warrant recalled so the client could get the new job in Minnesota his employer promised once the bench warrant was recalled.
The Long Beach judge assigned to hearing the case recalled the bench warrant and, in a show of appreciation for the client paying the overdue fines and fees, agreed to simply end probation early, given that over sixteen years had passed since the plea was entered.
When Greg advised the client of probation being terminated "early," meaning he did not need to serve a further two years, he was very happy. Greg then explained that the client was then eligible to have the conviction expunged, which the client said he was interested in doing so he could always answer "no" to having ever been convicted of any felony or a misdemeanor because he had no other convictions.
For more information about bench warrants and probation violation issues, please click on the following articles:
Contact us.