Probation Search: May Police Search Under Car Seat?
In many types of cases, but particularly in drug offenses, the Fourth Amendment is a common issue. After all, the Fourth Amendment guarantees "[t]he right of the people to be secure in their persons, houses, papers, and effects, against unreasonable searches and seizures, shall not be violated, and no Warrants shall issue, but upon probable cause, supported by Oath or affirmation, and particularly described the place to be searched, and the persons or things to be seized."
The Reader's Digest Version: If police pull over a car and there is a passenger in the car on probation with a Fourth Amendment waiver, police may search the interior of the car, as the following case summary exemplifies and explains.

One of the exceptions to obtaining a warrant before a search is for searches of probationers who have consented in advance to warrantless searches. People v. Woods (1999) 21 Cal.4th 668, 674 (however, such a search cannot "exceed the scope of the particular clause relied upon" and cannot "be undertaken in a harassing or unreasonable manner" (at 682)).
Although the California Supreme Court in Woods and later cases defined the scope of a home search based on a resident's searchable probation status, the Supreme Court has yet to consider the scope of a vehicle search based on a passenger's searchable probation status.
It has, however, considered this issue in the context of a passenger's parole status. In People v. Schmitz (2012) 55 Cal.4th 909, the court found an officer who stopped to speak to the driver of a car, and afterward learned the front seat passenger was a parolee, could lawfully search the backseat of the car for that reason alone. Id., at 913-914.
This holding, while surprising to some as an unlawful expansion of police power without a warrant, was defended by the court on two grounds. First, it explained that the state has a "substantial interest" in supervising parolees. Second, the area was an automobile, which a driver should have a reduced expectation of privacy in (historically arising from Prohibition law enforcement interests), particularly when allowing others to ride in his car, thus ceding away some measure of privacy to the passenger. Therefore, an officer may search those areas of the automobile where a passenger on parole could store personal items or discarded items when aware of police activity. Id.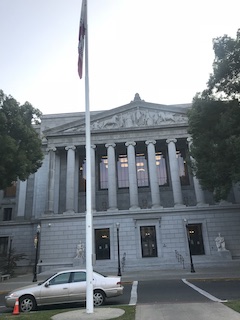 Court of Appeal Third Appellate District Sacramento
The court in People v. Cervantes (2017) 11 Cal.App.5th 860 then applied the same Schmitz standards for a search related to a parolee to a probationer to search the backseat of a car when the front seat passenger was on probation. To its credit, the Cervantes court acknowledged that there are different search conditions for parolees and probationers, but in the end, the similarities overshadow the differences.
Applying this to a recent case out of Butte County, the Third Appellate District in People v. Anthony Paul Maxwell (2020 DJDAR 13233) affirmed the trial court's denial of Maxwell's motion to suppress drug paraphernalia and heroin found under the driver's seat after police stopped Maxwell because there were four arrest warrants and searchable probation conditions for his passenger.
After arresting his passenger, Christy Scarbrough, police noticed Maxwell seemed to be under the influence of a controlled substance and had fresh injection marks on his forearms and a small patch of soot on his pants that, the officer testified, came from the underside of a "cooking spoon" used to melt heroin before injecting it. The police then, invoking the probation conditions for Scarborough, searched Maxwell's car, finding multiple used hypodermic needles under the driver's seat, a spoon with soot on it and brown residue on its inside, a digital scale, multiple cell phones and several pieces of what the officer believed was black tar heroin. Maxwell also had $690 in cash in his pockets, a counterfeit $100 bill, a motel room key and 0.969 grams of what the officer "believed was a narcotic," but could not identify. The officer then went to the hotel room and found multiple used hypodermic needles and "large balls of what appeared to be black tar heroin."
Based on what was found, Maxwell was charged with possessing heroin with the intent to sell it and possessing drug paraphernalia.
Maxwell brought a motion to suppress the evidence, arguing that Scarborough's probation searchable status did not justify the search of his car. The trial court denied the motion and Maxwell the appealed the ruling to the Third Appellate District Court.
The Third Appellate District Court acknowledged that only the Cervantes case, supra, allowed such a search of a car based on the probation-searchable status of a passenger. However, it pointed out that such a ruling made sense because otherwise, a narrower rule would allow a "probation-searchable probationer to frustrate a valid search simply by sitting in the front seat and placing or discarding his or her belongings in the back."
We bring this summary to the reader's attention because it is a common factual scenario and the law on this issue is really rather sparse.
The citation for the Third Appellate District Court ruling discussed above is People v. Anthony Paul Maxwell (3d App. Dist., 2020) 58 Cal. App. 5th 546, 272 Cal. Rptr. 3d 585.

For more information about probation searches, please click on the following articles: