Prior Convictions Outside California - Effect Here?
In a Nutshell: Prior convictions outside California may be considered as prior "Strikes" under California's Three Strikes Law, a prior serious felony, or a prior conviction for specific crimes (i.e., DUI, domestic violence, indecent exposure) for an enhanced sentence in California and in federal court in California.

It is not unusual for a client of ours to have a prior criminal history from another state. The client usually asks first if California will know about this and second, will the other conviction count as a prior felony for sentencing enhancements, i.e. as a prior strike under California Three Strikes law or as a prior serious felony for a five-year sentencing enhancement, or as a prison prior.
The answer is quite depressing. Unless specifically excluded by a statute particular to a certain crime, prior felony convictions include prior convictions from another state that were felonies of the other state, even if it would be classified as a misdemeanor in California. People v. Lang (1989) 49 Cal.3d 991, 1038. This can come as a big shock to some of our clients. Similar principles apply in U.S. federal criminal court.
An attorney therefore must be careful to understand the elements (statutory requirements) of the conviction in another state at the time of defendant's prior conviction there. See, e.g., People v. Rodriguez (2004) 122 Cal.App.4th 121, 130. This means one must be aware that the elements of a crime in another state may have been different (from the elements now) years ago when the conviction was suffered.
For example, some out-of-state drunk driving and vehicular manslaughter convictions can be used as prior convictions for DUI or vehicular manslaughter in a later California-based DUI. See Vehicle Code § 23626; see also People v. Palmer (2006) 142 Cal.App.4th 724 (Nevada priors apply in California, despite no right to jury trial, rejecting U.S. v. Tighe (9th Cir., 2001) 266 F.3d 1187); but see People v. Self (2012) 204 Cal.App.4th 1054, 1060 (record failed to qualify Arizona prior), People v. Crane (2006) 142 Cal.App.4th 425, 432 (Colorado prior was considered a prior for California because the same elements of DUI required in California were then required in Colorado).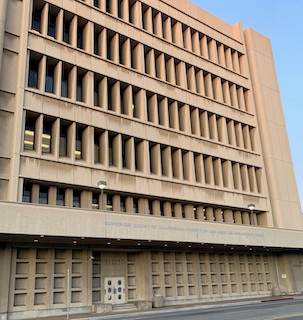 Inglewood Courthouse
Similarly, a felony conviction that serves as the basis for a charge of possession of a firearm or ammunition by a convicted felon need not be a crime in California. People v. Shear (1999) 71 Cal.App.4th 278, 282 (discussing former Penal Code § 12021(a) (now Penal Code § 29800(a)).
It is also critical to understand, as this does arise, that a dismissal under a diversion program or even a pardon in another state does not prevent a conviction from another state as qualifying as a California prior. See, e.g., People v. Faranso (2015) 240 Cal.App.4th 456, 464. This is also true in federal court in how it treats a California conviction that was expunged. However, a felony conviction in another state that was then reduced to a misdemeanor there cannot be used as a predicate felony in California . People v. Lewis (2008) 164 Cal.App.4th 533, 536.
Neither state nor federal law requires a jury trial on an allegation of a prior merely because it involves a prior conviction outside California. See, e.g., People v. McGee (2006) 38 Cal.4th 682, 685 (Nevada priors). Similarly, neither state nor federal law bars retrial of the foreign prior allegation after an appellate court outside California reverses the conviction for insufficiency of the evidence. People v. Jenkins (2006) 140 Cal.App.4th 805, 813.
As to a prior serious felony from outside California, California Penal Code § 667(a)(1) allows a conviction from outside California to be used as a serious felony prior when the record of conviction from outside California for the offense there shows conduct that qualifies as a serious felony in California. People v. McGee, supra, at 691; see also People v. Fox (2001) 93 Cal.App.4th 394, 399 (conviction in Oregon for sex molestation qualifies as a serious-felony prior under Penal Code 1192.7(c)(6), regardless of intent).
As to the Three Strikes law, Penal Code § 667(d)(2) and 1170.12(b)(2) allow a conviction from outside California to be used a prior under Penal Code § 667(e) and 1170.12(c), as long as the offense could have been punished by imprisonment in California if committed in California. The record of conviction outside California must reflect conduct qualifying as a strike listed under Penal Code § 667.5(c) or 1192.7(c); see McGee, supra, People v. Roberts (2011) 195 Cal.App.4th 1106, 1114.
Lastly, for an out-of-state conviction to constitute a prison prior for a sentencing enhancement under Penal Code § 667.5, that conviction must be for conduct that would be punishable in California with a sentence of state prison or county jail under Penal Code § 1170(h) (AB109) if it had been committed in California. The offense committed outside California must meet all the elements of a California felony. Penal Code § 667.5(h). Finally, defendant must have served one or more years in prison for the offense in the other jurisdiction. Penal Code § 667.5(h).
For more information about prior convictions, please click on the following articles:
Contact us.