Court Improperly Finds Wisconsin Conviction a Prior Strike
In 2007, Jose Saez used a garrote (a wire weapon used to strangle someone) to assault a women in broad daylight on a San Francisco street. A witness called police, reporting that he was "stomping" on the woman as she lay on the sidewalk.
Brief Synopsis: Prior finding that a Wisconsin conviction for false imprisonment is a strike in California is reversed because the Wisconsin statute under which defendant was convicted did not require that he use a firearm to commit false imprisonment.
When police arrested Saez, he commented that his stomping could not have hurt the woman because "the bitch was already dead." The woman actually did not die. Police then found a homemade garrote in his pocket.
A jury found Saez guilty of attempted murder and also found that the crime was premediated. The jury further found that he personally inflicted great bodily injury, defined under Penal Code § 12022.7.
The judge then found that Saez had two prior convictions in Wisconsin that could possibly be strikes under California's Three Strikes law. The jury then found the two prior convictions were true and the judge sentenced Saez to 39 years to life in prison under Penal Code § 667(b) – (i) and § 1170.12.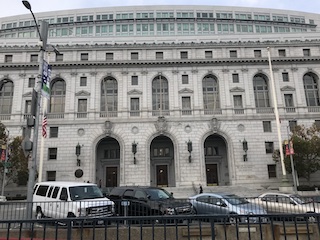 Court of Appeal First Appellate District San Francisco
Mr. Saez appealed on multiple grounds, but this article will only present the argument that his Sixth Amendment right was violated when the Califonia judge did not allow him to contest the "personal use of a firearm" issue in his prior Wisconsin conviction for armed false imprisonment. Because the judge in California found he was armed, the judge counted the Wisconsin conviction as a strike, making his California attempted murder conviction a third strike. Saez had another Wisconsin conviction that was undisputed as a "strike."
A little background information may be helpful for the reader. A qualifying strike under California's Three Strike law includes, "[a] prior conviction in another jurisdiction for an offense that if committed in California, is punished by imprisonment in the state prison… if the prior conviction in the other jurisdiction is for an offense that includes all of the elements of a particular… serious felony as defined in subdivision (c) of section 1192.7."
Section 1192.7 (c) then lists many offenses that constitute "serious felonies" and includes "any felony in which defendant personally uses a firearm." This firearm provision is at § 1192.7(c)(8).
The key issue on Saez's appeal was whether Saez's conviction for false imprisonment while armed constituted a strike because the conviction itself does not establish that he used a firearm in the commission of the crime. After all, the Wisconsin statute under which Saez was convicted did not contain all of the elements necessary to find it was a qualifying offense under California Penal Code § 1192.7 (c). Most importantly, California requires use of the weapon, where Wisconsin only requires possession and nothing more.
The only way to determine whether Section 1192.7 is met is to look to the record of the prior conviction. In People v. McGee (2006) 38 Cal. 4th 682, the California Supreme Court said the judge here could look at the "entire record of conviction" to resolve this. In doing this, the trial judge looked at a police officer's affidavit of probable cause in the Wisconsin case, but Saez objected to this as hearsay and it was not part of the record of conviction.

Saez therefore objected that because the trial judge considered hearsay, his Sixth Amendment right to cross-examine the officer was violated.

The Court of Appeal for the First District, at 2015 DJDAR 6897, agreed, but on different grounds. The Court of Appeal did not agree with the hearsay objection, but agreed that the California judge erred by considering materials that were not specifically designated as part of record of conviction. In other words, the trial court exceeded its authority in what it could consider.

Moreover, the First District found that the trial court violated Saez's Sixth Amendment right to have a jury determine any fact that increases the penalty for a crime beyond the prescribed statutory minimum. This right was held to be a constitutional right under Descamps v. United States (2013) 570 U.S. 254, 133 S. Ct. 2276.

Accordingly, the First District court vacated the 39 years to life sentence and remanded the case for resentencing.
The citation for the First Appellate District Court ruling discussed above is People v. Jose Saez (1st App. Dist., 2015) 237 Cal.App.4th 1177.