Eighth Amendment (Cruel and Unusual Punishment) & 3 Strikes
A strike, defined as a serious or violent felony, carries with it a significant sentence under California's "Three Strikes Law" (Penal Code §§ 667 (b) - (j) and 1170.12). A conviction for a second strike usually results in a doubling of the sentence. A conviction for a third strike carries with it an indeterminate sentence of twenty five years to life. This type of sentencing structure is in part designed to protect the public from violent and dangerous career criminals.
Brief Synopsis: A third strike, resulting in a sentence of 26 years to life, for failing to register as a sex offender was challenged as unconstitutional cruel and unusual punishment, in violation of the Eighth Amendment prohibition on such punishment. Defendant lost this appeal. To read the court's reasoning, read the full article.

In 1989, Courtney Crosby was convicted of rape (Penal Code § 261a(2) and strike number one for him) as well as oral copulation (Penal Code § 288a and strike number two). He also had a prior robbery conviction. He was thereafter required to register as a sex offender under Penal Code § 290 and annually updated his address within five days of his birthday for the remainder of his life.
At first, he complied. In 1999, however, he was arrested and charged with failing to annually update his registration five days after his birthday (Penal Code § 290 (a) (1) (c)) and failing to register within five days of a change of address (Penal Code § 290 (f)). The judge sentenced him to an indeterminate term of twenty-five years to life, plus one year for a prior prison term.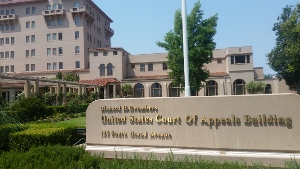 Courtney Crosby appealed the sentence as a writ of habeas corpus, arguing that the third strike sentence imposed for his technical errors in failing to register violated the Eighth Amendment's prohibition against cruel and unusual punishment.
The appellate court affirmed the sentence, so Crosby appealed to the U.S. Court of Appeals for the Ninth Circuit. Crosby argued that his violations were disproportionate to the sentence imposed. In evaluating Crosby's argument, the United States Court of Appeals for the Ninth Circuit began its analysis with the understanding that it could reverse the lower court when, "there is no possibility that fair mended jurists could disagree that the state court's decision conflicts with the Supreme Court's precedents."
The Court of Appeals then noted that Crosby was convicted of both failing to update his address within five days of changing his address and for failing to annually register.
Citing prior U.S. Supreme Court decisions, the Court of Appeals then analyzed the twenty-six years to life sentence as grossly disproportionate by evaluating the gravity of the offense. The court looked to other jurisdictions where life sentences were upheld for possession of 650 grams of cocaine, another in California under Three Strikes where a life sentence was upheld for grand theft of personal property (golf clubs) in excess of $400 in value and another life sentence under Three Strikes in California for petty theft $153.54 in videotapes. In all such cases, the Three Strikes sentencing structure was held not to violate the Eighth Amendment.
The Court then discussed
Gonzalez v. Duncan
(9th Cir. 2008) 551 F. 3d 878, involving only a conviction for failing to register within five days of one's birthday. The court there contrasted the annual registration requirement with the address change requirement as more of a technical, regulatory provision to back-up to the change of address requirements.
Turning to Crosby's case, the Court of Appeals decided that the sentence by the trial court did not constitute "cruel and unusual" punishment, as the state had a public safety "interest in ensuring that it knows the whereabouts of its sex offenders." Therefore, the trial court's sentence was not objectively unreasonable and the sentence was affirmed.
For more information about sentencing on strike offenses, click on the following articles:
Adult Convicted of Resisting Arrest May Not Serve Sentence in County Jail Because of Juvenile Strike
Contact
Greg Hill & Associates