Does DUI Conviction in Another State 'Count' As a Prior DUI?
In
Isaac v. Department of Motor Vehicles
(2007) 155 Cal.App.4th 851, the court of appeal interpreted the Interstate Driver License Compact. (Vehicle. Code § 15000
et seq
.). It found that under the Compact, participating states provide one another with reciprocal notification of certain driving violations, including driving under the influence. (§ 15023, subd. (a)(2).)
About This Article Briefly: An out of California DUI conviction will only count as a DUI in California if the out of California statute defendant was convicted of describes substantially similar conduct and is equal to or narrower in scope than California law, i.e. if it penalizes more conduct than California's DUI law, it will not count.

"For the compact to apply, there must be sufficient evidence of conviction under a substantially similar statute. California thus may not give effect to out-of-state conviction reports unless" (1) the law of the reporting state pertaining to conviction is "substantially the same" as California law pertaining to the conviction; (2) the description of the violation from which the conviction arose is sufficient; and (3) the interpretation and enforcement of the law of the reporting state are "substantially the same" as the interpretation and enforcement of the California law in question. ([Citation], quoting § 13363, subd. (b); see also § 15023, subd. (c) [w]here statutory language is not identical, "violations of a substantially similar nature" in another state constitute reciprocal offenses].) (
Isaac, supra
, 155 Cal.App.4th at p. 856, quoting from
Moles v. Gourley
(2003) 112 Cal.App.4th 1049, 1055).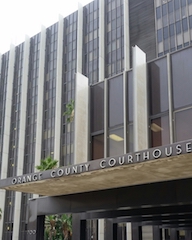 Santa Ana Courthouse
First, which states are participating member in the Compact? One can refer to http://apps.csg.org/ncic/Compact.aspx?id=56 to find out. Note that Georgia not a member, nor is North Dakota, Nevada, Michigan, Wisconsin or Tennessee.
If the conviction from another state seems to be for DUI, how does one go about challenging it? In Draeger v. Reed (1999) 69 Cal.App.4th 1511, 1522, the appellate court here held that the Florida statute was not substantially similar to Vehicle Code § 23152 on its face because Florida does not have a driving requirement, simply a requirement that the person be in physical control of a vehicle. The DMV presented two documents to prove the prior, a police report and a citation. The court of appeal refused to consider the police report, because it was not part of the record of conviction. Daeger, supra, 69 Cal.App.4th at p. 1523. The citation, however, was part of the record, and it showed that Draeger was in fact driving. However, it did not show he was convicted. (Id. at p. 1523).
Draeger raises the issue of just what can a California court look at in deciding if an out-of-state conviction qualifies? People v. Guerrero (1988) 44 Cal.3d 343, 352 answered this in part. It held that a court attempting to determine the nature of a prior conviction may look at the entire record of conviction, but when the record does not disclose any of the facts of the offense actually committed, the court must presume the prior conviction was for the least offense punishable under the out-of-state law. (See also People v. Martinez (2000) 22 Cal.4th 106 [allowing CLETS documents to prove existence of prior]).
In this regard, the prosecutor still has to prove the existence of the priors. Once he/she proves their existence, the defense has the burden of proving that they were unconstitutional by a preponderance of the evidence, in a pretrial motion. Curl v. Superior Court (1990) 51 Cal.3d 1292, People v. Coffey (1967) 67 Cal.2d 204; People v. Sumstine (1984) 36 Cal.3d 909..
Also there is a difference between proving that a particular defendant suffered a conviction (the existence of a prior) and that the particular offense qualifies as a California prior. The DA has to prove: (1) that the prior conviction occurred; (2) that the defendant was the same person; and (3) that the out-of-state prior contains all the elements of a California DUI.
The prosecutor could prove the existence of the prior with a rap sheet or CLETS printout if it is properly authenticated. People v. Martinez (2000) 22 Cal.4th 106, 120; People v. Matthews (1991) 229 Cal.App.3d 930, 940-941. A witness would have to testify as to the mode of preparation to support a finding that the CLETS printout was a business or official record. Martinez, supra, 22 Cal.4th at pp. 120-121. Obviously, no one can do that with, for example, South Dakota or Maine records, unless the prosecutor brings somebody to California from both of those states. This point is often overlooked by defense attorneys.
Beware, however: faxed copies of certified court records have been held admissible. A copy of a writing in the custody of a public entity is prima facie evidence of existence and content of writing if: (1) copy purports to be published by authority of the public entity which keeps the writing; (2) office is in the United States; and (3) copy is attested or certified as correct copy by a public employee having legal custody of the writing. Evid. Code § 1530, subd. (a)(1)-(2).
A copy of a certified copy is also admissible unless there is a serious question as to its authenticity or contents, or it would be unfair to admit the copy in lieu of the original. People v. Atkins (1989) 210 Cal.App.3d 47, 55; Evid. Code § 1521. Authentication is nevertheless still necessary, but it may be by circumstantial evidence and by its contents. Evid. Code § 1400; Evid. Code § 1410; People v. Gibson (2001) 90 Cal.App.4th 371, 383; Young v. Sorenson (1975) 47 Cal.App.3d 911, 915.
Do not forget that some admissible evidence would have to be introduced to establish the identity of the defendant as being the same person who incurred the prior.
Matthews, supra
, 229 Cal.App.3d at p. 941.
For more information about the issues in this article, click on the following articles:
Contact us.