Prior Convictions – How Can They Affect a Current Case
Many of our clients seek to retain a private defense attorney such as our firm because they had a prior case with representation by a public defender. The client may comment to us that the public defender did not help them as much as they expected. Our conversation then moves onto what the prior conviction was for and the remainder of the client's prior record. The client may be generally aware that having a new case with a prior record can affect sentencing on the new case, but is otherwise not clear on exactly how it factors in.
Why This Article Matters: When a defense attorney asks about a client's criminal history, we understand that it can be somewhat annoying. However, there are legitimate, valid, and important reasons why such a history can be relevant, in many contexts, as this article explains.

This article is intended to give an overview of how a prior conviction can affect a later case in state court (for a discussion of how a prior state conviction effects a federal case, this article does not apply).
A prior conviction, depending upon what it is for, its seriousness and its recency can have four general effects:

The prior conviction can be a required element of a new crime, i.e. a DUI with a prior misdemeanor or felony DUI or a felon with a firearm;

The prior conviction can increase the seriousness of the new crime, i.e. an indecent exposure case with a prior indecent exposure case;

Increase the sentence, i.e. a prior serious felony conviction or a prior "Strike" conviction; and
Disqualify one for serving one's sentence in county jail under AB109, i.e. a prior strike, even as a juvenile.
For any prior conviction to have such an effect, the pleading and later, in sentencing, the date of ascertainment of guilt, i.e., the verdict of the date of the plea must precede the date of commission of the current offense. See People v. Flood (2003) 108 Cal.App.4th 504, 507 (conviction triggering enhancement under Three Strikes law); see People v. Huynh (2014) 227 Cal.App.4th 1210, 1214 (conviction triggering life sentence under Penal Code § 667.61(d)(1)).; People v. Rojas (1988) 206 Cal.App.3d 795, 797 (conviction triggering 5-year prior serious felony enhancement); People v. Shivers (1986) 181 Cal.App.3d 847, 850 (conviction triggering Penal Code § 667.5(b) prior prison-term enhancement).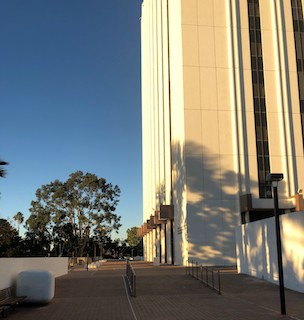 Compton Courthouse
It is not necessary that judgment be pronounced before the prior conviction be effective or that any appeal be complete. People v. Rogers (2013) 57 Cal.4th 296, 344.
It is important to note for the reader two common misconceptions we encounter repeatedly in this regard. First, a prior conviction stricken in the interest of justice at sentencing in a prior case (i.e. due to a granted Romero motion in the prior case) may still be used as an enhancement in a future case. People v. Milosavljevic (1997) 56 Cal.App.811, 817. We would note, however, that defense counsel should consider filing a Romero motion again in the current case.
Second, convictions that were "expunged" may qualify as priors in later prosecutions. People v. Frawley (2000) 82 Cal.App.4th 784, 791; People v. Diaz (1996) 41 Cal.App.4th 1424, 1430. This includes adjudications sealed under juvenile court proceedings under Welfare & Institutions § 1772. People v. Pride (1992) 3 Cal.4th 195, 256; People v. Daniels (1996) 51 Cal.App.4th 520, 522; People v. Jacob (1985) 174 Cal.App.3d 1166, 1172.
Third, a prior felony conviction reduced to a misdemeanor under Penal Code § 17(b) qualifies as a felony only when permitted by the applicable sentencing statute in the open or current case. People v. Park (2013) 56 Cal.4th 782, 794. For example, a prior serious felony remains a prior serious felony under the Three Strikes law even if the conviction is later reduced to a misdemeanor under § 17(b). Penal Code §§ 667(d)(1), 1170.12(b)(1) (Three Strikes law); People v. Park, supra.
Usually, however, a felony conviction reduced to a misdemeanor under § 17(b) cannot be used as a felony prior. People v. Gilbreth (2007) 156 Cal.App.4th 53 (charge of felon with a firearm); People v. Camarillo (2000) 84 Cal.App.4th 1386, 1389 (DUI). In this regard, we note for the reader that if one previously was on felony, or formal, probation and the judge granted a reduction in the probation from formal probation to summary probation at some point, this "counts" as reduction of the conviction to a misdemeanor. People v. Glee (2000) 82 Cal.App.4th 99, 105.
Lastly, we note that some offenses involving marijuana may no longer qualify as priors as a result of Prop 64, the Adult Use of Marijuana Act.
For more information about prior convictions, please click on the following articles:
Contact us.