Can Prop 47 Remove an Enhancement & 5 Year Wash Out Period?
Under Penal Code § 17(b)(3), when a judge reduces a felony to a misdemeanor, the offense is then "a misdemeanor for all purposes." Were defendant to be later convicted of another crime, the reduced offense cannot be considered a felony anymore as a prior felony for a sentence enhancement under Penal Code § 667(a). People v. Park (2013) 56 Cal.4th 782, at 788.
Does the same approach apply to a felony reduced to a misdemeanor under Prop 47? After all, Proposition 47 similarly states, at Penal Code § 1170.18(k), that if a petition for resentencing or reclassification is granted, the offense of conviction thereafter "shall be considered a misdemeanor for all purposes," except that a resentencing cannot allow the convict to recover his or her rights regarding firearms.
This question about Prop 47 was recently put to the test and answered in People v. Guy Barrett Warren at 2018 DJDAR 6475 on June 21, 2018 by the California Court of Appeal for the Fifth Circuit.

Why This Article Matters: Prop 47, if it reduces a felony to a misdemeanor, can render a prior prison sentence a misdemeanor for all purposes and thereby help someone, as this article exemplifies, avoid a "prison prior" within five years and consequently avoid the one year sentence enhancement formerly applicable under Penal Code § 667.5(b) (now no longer the law due to SB 136 in 2020).

Mr. Warren was arrested in 2015 and later charged in Kern County of being a felon in possession of a firearm (Penal Code § 29800(a)(1)), being a felon in possession of ammunition (Penal Code § 30305(a), and brandishing a firearm (Penal Code § 417(a)(2). The complaint alleged nine prior convictions, including second-degree burglary in 2012. All the priors were alleged for purposes of the one-year enhancement under Penal Code § 667.5(b).
This is where things got interesting. For the 2012 second-degree burglary, Warren received a six-year prison sentence, but while still in prison, Prop 47 was passed.
Warren then applied for and received reduction of his second-degree burglary conviction to a misdemeanor under Prop 47. He was then released from prison immediately.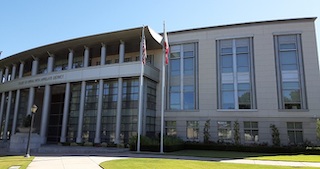 Fifth Appellate District CA Court of Appeal Fresno
His next most recent felony was from 2008, which was also granted Prop 47 relief and reduced to a felony with a one-year sentence.

This meant that at the time of the 2015 arrest, he had been out of custody for five years after Prop 47 relief. Therefore, none of the one-year sentencing enhancements applied.
Warren thus filed a motion himself (he was in pro-per) to strike all the prior sentencing enhancements. The judge in Kern County denied his motion, reasoning that when the prior felonies were committed, they were felonies, so the sentencing enhancements should apply. Warren was then sentenced to seven years in state prison with four one-year sentencing enhancements under Penal Code § 667.5(b).
Warren appealed this ruling to the Fifth Appellate District, arguing that the People v. Park case cited above should apply to his sentencing enhancements, just as Penal Code § 17(b)(3) was held to apply by the California Supreme Court. Warren also cited to People v. Abdallah (2016) 246 Cal.App.4th 736, a case involving sentencing enhancements being stricken after certain felonies were reduced to misdemeanors.
The Fifth Appellate District agreed with Warren. The Fifth Appellate District explained that the prior felonies should be treated as misdemeanors "for all purposes," including for purposes of imposing sentencing enhancements. Since an enhancement under section 667.5(b) must be based on a prior prison term imposed for a felony, the reclassified offenses could not be the basis for such an enhancement.

Moreover, the five-year washout provision applied so that for Warren, he had no felonies in the prior five years before 2015 and thus, no one-year sentencing enhancement would apply. This meant four years of the seven-year sentence were eliminated.
We appreciate this ruling on several levels. First, it demonstrates that one really should seek Prop 47 relief (and 17(b)(3) relief) whenever it is available. Warren received such relief and had no idea that it would later become helpful. Second, it shows how sentencing can be confusing, even to a judge that does so every day in many cases. Lastly, it nicely shows how other sentencing statutes, such as 17(b), must be well-understood so an attorney can analogize application of 17(b) principles to another statute when the other statute (Prop 47 here) is worded the same.
The citation for the Fifth Appellate District Court ruling discussed above is People v. Guy Barrett Warren (5th App. Dist., 2018) 24 Cal.App.5th 899.

For more information about sentencing issues, please click on the following articles:
Contact us.