Prejudicial Error Committed by Denying Right to be Present?
The following summary of a recent reported decision out of the Second Appellate District is hard to read and conclude, "well, the judge really screwed that up – how embarrassing!" Instead, one reads the summary and feels sympathy for the judge, or at least empathy. The judge is James Bianco, who our office has appeared before many times in Department 95 at the Los Angeles Metropolitan Court and regard as an excellent judge who is careful, patient and smart.
The Gist of this Article: A judge may not rule on defendant's waiver of his or her right to a jury trial in his absence, even if a psychiatrist retained to opine on defendant's competency found that defendant was incompetent to decide whether to waive his right to a jury trial.

In 2013, Armando Ford pleaded not guilty by reason of insanity (NGI) to attempted kidnapping and was found legally insane at the time of his offense. He was thereafter committed to a state hospital under Penal Code § 1026.
In February, 2019, a few months before his maximum commitment date, the People petitioned to extend Ford's commitment by two years under Penal Code § 1026.5, alleging he represented a substantial danger of physical harm to others due to his mental illness.
Judge Bianco held an arraignment in Ford's absence and appointed two psychiatrists to examine him: Dr. Kory Knapke for the defense and Dr. Gordon Plotkin for the People. The judge then set the matter for a pre-trial hearing on April 25, 2019 and ordered to the state hospital (Patton) to transport Ford to court for the hearing. Defense counsel advised the judge that Ford would likely demand a jury trial.
Despite the judge's order, Patton State Hospital failed to transport Ford to the April 25, 2019 pretrial hearing and the hearing proceeded in his absence. At the hearing, Ford's attorney presented the judge a single paragraph letter from Dr. Knapke, opining that Ford lacked the capacity to decide whether to waive his right to a jury trial and describing a meeting the doctor had with Ford wherein Ford told the doctor he hoped a jury would agree with his new evidence that he intended to introduce at trial.
Based on Dr. Knapke's letter and the medical opinion that Ford lacked the capacity to waive a jury trial, Judge Bianco found Ford incompetent to decide whether to waive his jury rights. Defense counsel then waived Ford's right to a jury trial and the People agreed to waive their right to a jury trial.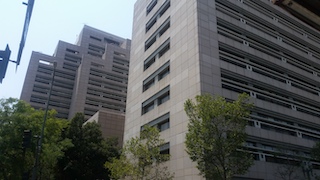 2nd Appellate District Court of Appeals CA Los Angeles
Defense counsel then requested that the judge set trial for a date Patton could transport Ford to court "because he likes to appear in person." Judge Bianco agreed and set trial for May 30, 2019 and ordered Patton to transport Ford to court on that date.
At trial, Dr. Plotkin testified that he had interviewed Ford about six weeks prior to trial and concluded he posed a substantial danger of physical harm to others and could not control his impulses due to his mental disorder.
For the defense, Ford testified, acknowledging he had a mental disorder, but that the medication he was taking was helping and he no longer heard voices. With the medication, he testified, he was able to be coherent with his peers, talk to his doctor and attend all his group meetings. He then testified as to what his plans were after release, which first and foremost included obtaining Medi-Cal to get his medications. He even testified that he had a backup plan of leaving California and moving back to Georgia to live with his family, where he would seek the assistance of Georgia's Department of Behavioral Health.

When asked about incidents during his commitment at Patton, Ford offered various explanations and said he would never hit anyone because he had a "soft heart." He ended his testimony by reiterating that he knew he had a mental illness, but that he also knew it could be treated with medications and therapy, and that he would rely on his family's help.
Judge Bianco then found the petition true to extend Ford's commitment by two years, commenting that he could see Ford was doing much better now and even "better than you were doing six weeks ago when examined by Dr. Plotkin," but he was not ready to be released just yet.
Ford then appealed, challenging Judge Bianco's earlier finding that he was incompetent to decide whether he wanted a jury trial and its acceptance of the jury waiver, both in his absence.
The Second Appellate District agreed with Ford that Judge Bianco violated Ford's due process right to be present at the April 25 hearing when it found his incompetent to decide if he wanted a jury trial. The Second Appellate District pointed out that under Penal Code § 1026.5, the Legislature envisioned a hearing at which the NGI defendant is not only present but addressed directly by the judge about his or her right to a jury trial and this procedure was not followed. The judge did not get an opportunity to directly observe Ford in accepting such a waiver.
The Second Appellate District therefore conditionally reversed the order extending Ford's commitment and remanded the matter for Judge Bianco to conduct a hearing with Ford present to determine his competence to waive his right to a jury trial.
We read this published opinion with empathy for both Mr. Ford and Judge Bianco. Handling an NGI defendant must be one of most difficult responsibilities for a judge because the defendant can present himself or herself in different ways at different times. The defendant can be quite unpredictable and when charged with a "Strike" offense, the judge's natural inclination is often to protect public safety by erring on the side of caution. Moreover, an expert witness' patience with an NGI defendant can be exhausted, as it seemed to be here, making the preservation of the NGI's procedural rights all the more difficult.
The citation for the Second Appellate District Court ruling discussed above is People v. Armando Ford (2d App. Dist., 2020) 56 Cal. App. 5th 385, 270 Cal. Rptr. 3d 475.

For more information about the right to be present in court, please click on the following articles: