PC 1368, Mental Competency & Declaring a Doubt
The criminal process involves precise legal terms and strict procedural requirements. What seems relevant to an experienced criminal defense attorney may seem irrelevant to a layman, especially one operating under the stress of losing one's freedom and or money.
Some say it can drive one crazy.
In a Nutshell: Defense counsel or the judge may declare a doubt under Penal Code § 1368 as to defendant's competency to understand the proceedings and assist counsel in his or her defense. Declaring a doubt can be based on defendant's comments, demeanor, behavior or anything else that alerts defense counsel or the judge that defendant's competency is suspect.

Joking aside, when a defendant is not mentally competent, a judge must state such a doubt on the record (meaning a court reporter types this into the transcript of the proceeding). This is called "declaring a doubt" as to defendant's mental competence under Penal Code § 1368. The judge must then suspend the criminal proceedings and order an expert's evaluation of defendant to determine if defendant is, in fact, mentally incompetent. The judge should state on the record the factual basis for the doubt.
The judge may take such action on its own or, more commonly, may do so after defense counsel advises the judge that he or she has doubts about the mental competency of defendant. This may be due to defendant's demeanor, his behavior, his comments or questions or anything else that appears quite unusual. The defendant may be wearing a yellow shirt, indicating he is housed within the jail's mental ward due to a psychiatric episode, but alone is not a sufficient basis for counsel declaring a doubt.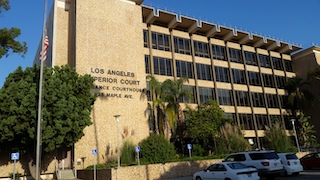 Torrance Courthouse
Once the judge orders a mental evaluation of defendant and orders a report of this under Penal Code § 4011.6, the next step is selecting an approved psychiatrist from Jail Psychiatric Services (JPS). Defense counsel will want to contact such an expert to ensure the expert is available to visit the defendant if in custody or if the expert simply has time to conduct such an examination. It is not unusual for the expert to request copies of the complaint and other file documents.
As suggested above, there is no "black and white" or "bright line" standard for defense counsel to advise the judge that he or she has doubts about the competency of counsel. Likewise, there are certain types of conduct that do not necessarily establish that defendant is mentally incompetent, often described as the "inability to participate meaningfully in the proceedings."
People v. Rogers
(2006) 39 Cal. 4th 826.
The threshold is "substantial evidence of mental incompetence." There must be a connection between the mental disorder and defendant's inability to understand the proceedings or to assist counsel. A past history of incompetence does not establish current incompetence.
People v. Romero
(2008) 44 Cal. 4th 386.
Even if defendant has attempted suicide in jail, this alone does not necessarily mean that defendant is incompetent.
Rogers,
supra
;
People v. Hayes
(1999) 21 Cal. 4th 1211. "Paranoid distrust of the judicial system" also does not necessarily mean defendant is incompetent.
People v. Welch
(1999) 20 Cal. 4th 701. Even a defendant giving bizarre answers to cross-examination (
People v. Cooks
(1983) 141 Cal. App. 3d 224) and cursing and then removal from the courtroom (
People v. Medina
(1995) 11 Cal. 4th 694)) does not establish incompetence. However, such behavior certainly may be the basis for counsel and then the judge declaring a doubt.
The judge can also address the issue of defendant's competency without declaring a doubt under Penal Code § 1368. For example, the judge can appoint a psychiatric expert to prepare an opinion under Evidence Code § 730.
It is important to note that time is not tolled when a judge orders an evaluation under Penal Code § 4011.6 or appoints an expert under § 730. Declaring a doubt, however, does suspend time for purposes of the Sixth Amendment right to a speedy trial.
What if defendant is representing himself or herself and the judge believes defendant lacks mental competency? If defendant indeed is mentally incompetent, trial in the case could turn into a circus worse than the Chicago Seven trial, if the case even gets to trial. When the judge is faced with such a quandary (made possible because defendant is acting as his or her own counsel under
Faretta v. California
(1975) 422 U.S. 806), the judge can appoint counsel to observe defendant's competency.
If defendant is deemed competent, the judge and defense counsel cannot challenge defendant's competency again unless there is a "substantial change in circumstances…"
People v. Medina
(1995) 11 Cal. 4th 694. As might be expected, when the court finds such a change, defendant often challenges such a finding, leading to a deterioration in the focus of the case from the allegations at issue to a concentration on defendant's mental competency.
For more information about mental competency issues, please click on the following articles:
Court May Not Involuntarily Commit a Mentally Retarded Person without a Showing That Violence Is Related to Retardation.
Contact us.