Pomona, Prostitution Case from 2007, Dismissed in 2021
In a Nutshell: Our client was cited in Pomona for solicitation of prostitution in 2007, when she was just 21 years old. She was released after signing a promise to appear in court in about two months, but did not appear, so a bench warrant was issued. In 2021, she was in a nursing program and was advised to recall the warrant. Greg Hill was retained and appeared for the client in court. The prosecutor dismissed the case.

In 2007, our client, then 21, was down on her luck and doing anything she could to earn money to eat and have a place to sleep at night. She turned to prostitution, as she could earn $1,000 in one night. However, one man, a pimp in the local area, soon noticed her.
At first, the man told her he could help her get more customers who paid more and who were more discreet, which would keep her off the street. Our client did not really need any help and she had not been arrested while walking the streets. Then the pimp told her she needed to pay him to hang out in certain areas.
In response to his offers and threats, she moved around Los Angeles County quite a bit to the more profitable "blades," areas where "johns," men looking for prostitutes, would go.
One night, in Pomona off Garey and Kingsley Avenue, our client was hanging out, looking for customers. According to the police report, she was wearing a red skirt, white blouse and black boots. A Pomona Police Department officer, assigned to act as a decoy as a John, pulled his unmarked police car up to the curb alongside where our client was standing.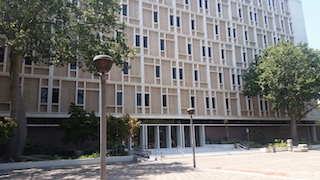 Pomona Courthouse
Our client walked up to the lowered passenger window and peered into the car to talk to the driver, who our client clearly did not know was a police officer. Our client allegedly asked, "What do you want?"
The officer answered, "You!"

Our client allegedly responded, "How much you got?"
The officer answered, "$80. For a fuck and suck."
Our client allegedly then got into the front seat and the officer drove down the street, where another police car pulled over the decoy and cited our client for violating Penal Code § 647(b) (solicitation of prostitution), only to release her ten minutes later once she signed a promise to appear in the Pomona Courthouse about two months later.
As is not uncommon, especially in such types of offenses, our client lost the ticket, did not show up in court and a bench warrant was issued by the judge in the courtroom where our client promised to appear.
Over the next few years, our client forgot about the ticket and moved to Arizona, where she left the life of prostitution, got married and had children. She then decided to enter a program to become a nurse.

The program notified her that the program would require her to undergo training in a hospital nearby and the hospital would not permit anyone to serve in a trainee capacity if that person had any bench warrants pending. The program then told our client about five such bench warrants that our client had in the Los Angeles and Orange County areas from 2007.
The client then called Greg Hill & Associates and spoke with Greg Hill. The client explained that she had indeed worked as a prostitute for a while in the Los Angeles area and in this particular case, in Pomona. She could not recall if the warrant was for not appearing in court for the arraignment or for failure to complete the terms of plea bargain or for something else.
Greg then went to the Torrance Superior Court and, using the computer that is open to the public for this purpose (but the database is not accessible outside the courthouse), Greg ran our client's name and date of birth. He found the Pomona case number and read that the bench warrant was for our client's failure to appear for her arraignment. He then explained this to the client and the client hired Greg to appear in the Pomona Courthouse to recall the bench warrant and resolve the case.
After the client hired Greg Hill & Associates, the client got lucky with the election of George Gascon as head Los Angeles District Attorney. On the first day he took office, Mr. Gascon issued about ten special directives which directed his deputy district attorneys to not seek the death penalty, to dismiss all gang sentencing enhancements, to dismiss all Three Strike allegations, and many other new policies.
Among the special directives was Special Directive 12-07, which instructed his district attorneys not to file any cases for solicitation of prostitution (as well as certain other crimes).
Greg then appeared in the Pomona Superior Court and had the bench warrant in the case recalled by the judge. The handling district attorney then reluctantly dismissed the case "pursuant to orders stated in Special Directive 12-07."
In other words, our office did nothing exhibiting special skill. Our client was just lucky. Her timing was excellent. Nonetheless, she appreciated our office making the appearance on her behalf while she stayed in Arizona. She was one step closer to being eligible for the nursing program.
For more information about bench warrants, prostitution and George Gascon's Special Directives, please click on the following articles: