Pomona, Dirty Test in Prop 36, Three Years State Prison
Our client had a criminal history that is, unfortunately, rather commonplace. He picked up a methamphetamine habit out of high school and it changed his life in the worst ways. He picked up not only a record for possession of a controlled substance, but other charges as well, as discussed later in this summary.
When he first came to us, he was charged with violating probation for testing "dirty" on a random drug test given to him by his probation officer. This was not his first dirty test.
Gist: Client facing six years in state prison for violating probation while on Prop 36 for a second time. He fails a random drug test and judge in Pomona assigned to the case orders the client to do 20 Narcotics Anonymous (NA) meetings. The client fails to do all 20 and judge sentenced him to three years in state prison, not six.

The client, age 25, was on formal probation following a conviction for possession of a controlled substance (Health & Safety Code § 11377(a)), his second such charge. In his first case two years earlier, he had opted for Prop 36 and finished the program (this conviction took place before Proposition 47 came into effect on November 1, 2014, after which date a violation of Health & Safety Code would thereafter be a misdemeanor, not a felony).
Since that time, he had relapsed and been convicted of the same charge again. This time, he was given Prop 36 again, but as his final time. He then again completed the Prop 36 classes, but had tested "dirty" in a random test again.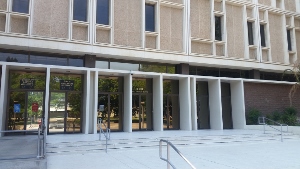 Pomona Superior Courthouse
When this happened, our office was contacted. Greg appeared in the Pomona Superior Court on the probation violation hearing. The judge was naturally not pleased, but kindly ordered him to attend twenty Narcotics Anonymous (NA) meetings, which he did not complete. When the deadline came and went for him to file his proof of completion of the twenty NA classes – and he did not do so – a bench warrant was issued.
Two months later, police stopped our client for driving a car with allegedly illegal tinted windows (Vehicle Code § 26708). When the police officer ran our client's name in their computer, the officers discovered there was a felony bench warrant for our client's arrest. On went the cuffs.
This was tremendously sad, as our client was working at the time. He was working as a handyman, so being arrested meant he would miss work.
Our office was then contacted again by his family, frantic that he was again in jail. Due to his two prior convictions, he faced a total of six years in state prison if convicted of violating probation. Bail was initially denied, as the client had a lengthy record with charges ranging from grand theft to armed robbery to counterfeiting to battery to various drug offenses.
Greg Hill of Greg Hill & Associates again appeared in court and was able to have bail set, but the amount set exceeded the client's ability to post a bond for bail. It seemed that the judge did this with knowledge that the practical effect was to still deny bail. This was before the case of In re Kenneth Humphries that dramatically improved the chances of a judge setting bail at a level that is affordable.
Our office then prepared a motion to reduce bail, which included multiple letters from loved ones attesting to our client's changed attitude toward life and newfound sense of responsibility.
The judge hearing the motion suggested a plea bargain after reading the motion, suggesting a three-year sentence. He stated that he was unwilling to punish the client with a six-year term in light of our client's apparent new maturity and support system. However, almost apologetically, the judge stated that punishment must be given.
With nearly 150 days of custody credit, and anticipated good time credit, it seems likely that our client will return to his family and leave prison in a little over one year. The client's family was very happy, as they were prepared for a six-year term.
For more information about the issues in this case summary, click on the following articles:
Contact us.