Pomona Court, Expungement of 2012 Wet Reckless Conviction
In 2012, our client, then 23 years old, entered into a no contest plea bargain in Pomona Superior Court to resolve a misdemeanor charge of violating Vehicle Code § 23103 pursuant to Vehicle Code § 23103.5, also known as a "wet reckless."
Counts one, two and three were dismissed under Penal Code § 1385 ("in the interests of justice") after the Complaint was amended to add an alleged violation of Vehicle Code § 23103 pursuant to Vehicle Code § 23103.5, as count four.
The case had originally been filed against her as a DUI, alleging a violation of Vehicle Code § 23152(a) and 23152(b)). The client also was driving on a suspended driver's license. Our client had been arrested for DUI after the CHP pulled her over for speeding on the I-10 Freeway, passing through Pomona. Her blood alcohol content was 0.10%. It was her first DUI.
The terms of the plea bargain negotiated were that our client was placed on three years of summary probation on the following terms and conditions: payment of a court fine of $150, plus penalties and assessments; payment of $993 in restitution; and enrollment in and completion of the AB1176 twelve-hour alcohol awareness program.
Our client then complied with all terms and conditions of probation and, despite having her probation revoked from June 18, 2013 until November 20, 2014 when she was arrested and then convicted for shoplifting in another Los Angeles County courthouse. She finished her thirty-six months of her probation in her Pomona case in September 2016.
Fast forward to 2021 and she had returned to her native country of Turkey, where she was teaching at a school there for almost five years. She had married. Both she and her husband wanted to return to the United States to work here, but our client was aware that her convictions (the wet reckless was one of four, one of which was a felony) would make travel here difficult, if not impossible and employment here difficult, if not impossible, as well.
She contacted Greg Hill about having the records from these four convictions sealed and Greg explained that sealing was not legally possible because she was actually convicted in each case. However, she could do the next most helpful thing and that was expungement.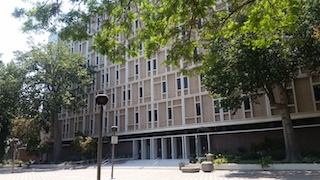 Pomona Courthouse
Greg then explained what expungement was and what it is not. The client then spoke with her immigration attorney who recommended expungement.
Greg then asked her a few questions to ensure she was preliminarily eligible. Greg asked and the client stated that she was not on probation and was not charged with the commission of any offense.
Greg then went to the courthouse and retrieved the docket in the case to verify that she had successfully completed probation, which she had despite it being revoked for a year and five months while one of her other cases was being resolved. Our client had successfully completed probation in fact.
Our office was then retained and we prepared the FL-180 judicial council form, filing it a supplemental memorandum of points and authorities, including a short declaration from our client, now 32, explaining her reason for seeking expungement and how this wet reckless had taught her to change her life, which she had done. The declaration included two letters of support from co-workers in Turkey.
Our office then filed the petition for dismissal and paid the $120 filing fee for this request in Los Angeles County Superior Court. We also served the district attorney's office with the petition.
The court then set a hearing date and Greg attended the hearing on the client's behalf while she stayed in Turkey. The judge granted the petition.
Greg then shared the news with the client through email. She was quite happy with this result, but had three more convictions to expunge, including one for a felony that our office would request to have reduced to a misdemeanor.
For more information about expungement issues, please click on the following articles: