Polliwog Park, Clients Ticketed for Trespass, Fine Lowered
Our clients, a dentist from Manhattan Beach and a Ph.D. engineer from Orange County, went to Polliwog Park about three weeks after the Covid-19 quarantine had started and Los Angeles County had ordered all parks and beaches closed.

The City of Manhattan Beach had ticketed a surfer $1,000 for defiantly going to the beach and a video of officials confronting the surfer made the evening news on all the major networks. The City had also shut down some construction sites where workers were observed working within six feet of each other. The City ticketed another 150 people, such as our clients, for walking on the Strand, working out in Live Oak Park and, as our clients found out, walking in Polliwog Park.
When our clients arrived at the park, they saw a Hispanic family enjoying a picnic while sitting on a large blanket atop the grass. They saw another African American family playing on the playground equipment by the lake. So our clients decided to do their customary walk around the park.
No sooner had they walked from their parked car toward the lake were they stopped by a police officer from the Manhattan Beach Police Department and advised that the park was closed due to Covid-19, the Mayor's Emergency Order # 2 and Manhattan Beach Municipal Code 12.48.055 (temporary closure of city parks). Our clients were then asked for their identification, which they produced in their driver's licenses.
Our clients asked why they were being ticketed when others in the park seemed to enjoy the park with impunity. The nearby Hispanic family, for example was eating from paper plates while our clients were being handed their tickets.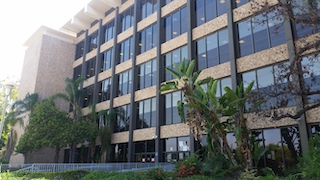 Torrance Courthouse
The Manhattan Beach police officers said, "no comment." This infuriated our clients, especially when they saw that the ticket was for $1,000 each and the violation was a misdemeanor.

The news the following day included an article wherein Manhattan Beach boasted it ticketed a further 150 people on the second day in a row in enforcing social distancing emergency orders.
Our clients got back in their car and left the park. A few days later, they each received a letter from a downtown Los Angeles law firm that introduced itself as the City Attorney for Manhattan Beach and explained the "appeal procedures" for the ticket they were given. It explained that a recipient of the ticket could request arbitration of the ticket, but that to do so, one must first pay the ticket ($1,000) and pay the mediator's costs ($1,500).

Our clients were outraged by the fees associated with walking in a park and knowing they were selectively ticketed. They called Greg Hill & Associates to discuss their rights.
They explained what had happened and Greg discussed the professional licensing consequences of a misdemeanor conviction for our client who was a dentist. Greg discussed a prior case where he had represented a dentist arrested for solicitation of prostitution in the Alhambra Superior Court and how that case was resolved without a conviction.
Greg and the clients then agreed that Greg would reach out to the downtown Los Angeles law firm representing the City of Manhattan Beach and try to negotiate a resolution wherein the case would be dismissed after our clients each performed some community service and perhaps made a donation to a fund for fallen police officers and/or firemen.
Greg then did so and, while the downtown lawyers acknowledged our request, no counteroffer was made for several weeks. Meanwhile, the deadline for "appealing" was fast-approaching, so Greg requested an extension of such a deadline just to preserve our clients' rights in case an appeal was what they later wanted to do.
Finally, Greg was able to speak with the lawyer representing the City of Manhattan Beach, who was very understanding and respectful of the awkward situation, especially for our client who was a dentist.
Greg asked if the City had the option of proceeding against our clients in an administrative manner only so that our clients would avoid a criminal conviction on their record (especially for a misdemeanor, no less) if they chose to pay the City's fine.
Amazingly, the City's attorney agreed to this, which was a major improvement for both clients, who were quite concerned about keeping their criminal history conviction-free.
Greg then asked if the clients could "earn a dismissal" by performing community service for the City or by contributing to a charitable fund to benefit the city.
The City's attorney replied that she could not offer either option, but she would reduce the fine to $250, which our clients eagerly accepted, happy to save $750 and avoid a criminal conviction on their records.

For more information about trespassing and an infraction, please click on the following articles: