People v. Duenas Overruled by Sixth Appellate District.
People v. Duenas (2019) 30 Cal.App.5th 1197 was a Second Appellate District Court decision out of downtown Los Angeles based upon a Van Nuys Superior Court case, wherein the Second Appellate District Court held that it was unconstitutional for a judge to impose fines and fees without first determining defendant's ability to pay such fines and fees. After Duenas was published, judges have been holding "Duenas Hearings" before imposing fines and fees.
Brief Synopsis: The Sixth Appellate District, which does not rule on cases from Los Angeles or Orange County, ruled that a person does not have a due process right to an ability to pay hearing under People v. Duenas before a court imposes fees and fines.

In Duenas itself, Velia Duenas struggled to pay off enormous court fines and fees to regain her driver's license so she could work. In a way, she was the "poster child" for how court fines and fees could prevent someone from working by being so high that the person could not pay the sum and therefore, would ironically not be able to work to in turn, pay off the fines. She epitomized the "treadmill effect" of struggling with fines and fees over many years.
There have been several subsequent rulings criticizing Duenas on various Eighth Amendment and Fifth Amendment due process grounds, but the following case, People v. Quintel Oshay Adams (2020 DJDAR 706), is the first to hold that an indigent defendant does not have a due process right to an ability-to-pay hearing prior to the judge imposing fines and fees.
Mr. Adams was sentenced to two two-year state prison terms (to run concurrently) after violating the terms of probation in two cases (one a domestic violence matter, the other a sex offense). He violated probation by not registering as a sex offender (Penal Code § 290.011(d)), a felony itself, and failing to participate in a substance abuse program, as well as failing to complete court-ordered community service.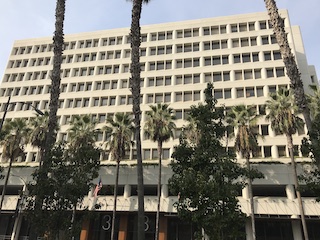 Sixth District Court of Appeal San Jose
During the sentencing earlier on the underlying cases, defense counsel argued Adams did not have the ability to pay any fines or fees because he was homeless and did not have a job. The judge responded by waiving the $330 restitution fund fine or the probation revocation fine (Penal Code §§ 1202.4, 1202.44). However, the judge imposed a $40 court operations assessment (Penal Code § 1465.8); a $30 court facilities funding assessment (Government Code § 70373); a $129.75 criminal justice administration fee (Government Code §§ 29550-29550.3); and a $25-per-month probation supervision fee.
In sentencing for the probation violation on both cases, the Santa Clara judge involved imposed fines and fees without first assessing Adams' ability to pay, arguing that this violated Duenas. The fines and fees included a $300 parole revocation fine and ordered that the unpaid fines imposed earlier be paid.
By such sentencing, Adams appealed to the Sixth Appellate District Court in Santa Clara, arguing that his federal constitutional due process rights were violated by the judge imposing the fines and fees without holding an ability-to-pay hearing as the court did in Duenas.
The Sixth Appellate District denied Adams' appeal, holding that Duenas was wrongly decided for two reasons.
First, the Sixth Appellate District pointed out that Adams was sentenced at the trial court level in 2015, four years before Duenas was even law in 2019, so the lower court could not have violated a right that Adams did not yet have. Moreover, the judge did waive certain fees and fines for Adams anyways.

Second, the court found that Duenas represented an unlawful expansion of due process rights. The court pointed out that the fines and fees at issue in Duenas did not interfere with Duenas' right to appeal and did not trigger immediate incarceration. The court cited to People v. Hicks (2019) 40 Cal.App.4th 320, wherein Mr. Hicks, similar to Adams, challenged the fines and fees imposed on him without a Duenas hearing. The court in Hicks interpreted Duenas as requiring a hearing for ability-to-pay only if imposing such fees would preclude indigent litigants from access to the courts or result in incarceration due to indigence, rather than willful defiance.
Hicks pointed out that Duenas required an ability-to-pay hearing for all fines, not just the two categories that had consequences of barring someone access to the courts or incarceration for indigence. Hicks found that expansion to any fine or fee unwarranted as an equal protection violation under the California Supreme Court's ruling in In re Antazo (1970) 3 Cal.3d 100, at 103-104 and 113-114.

Second, Duenas is inconsistent with the rehabilitative purpose of probation "because one way to encourage rehabilitation is to require a probationer to make an effort to repay his or her debt to society." Hicks, supra at 327.
Moreover, the court found the facts of Duenas factually distinguishable from Adams. Ms. Duenas was homeless with two small children, did not have a high school diploma and had no bank account or credit card. Adams presented no similar compelling and extraordinary reasons to justify a restitution fine waiver.

Therefore, the appellate court found no error in how the trial court imposed such fines on Adams.

The citation for the Sixth Appellate District Court ruling discussed above is People v. Quintel Oshay Adams (6th App. Dist., 2020) 44 Cal. App. 5th 828, 257 Cal. Rptr. 3d 871.

For more information about Duenas, please click on the following articles: