Criminal Court Fines Can Be Based on Ability to Pay?
Why This Article Matters: The Dueñas decision, summarized below, requires that a judge hold an "ability to pay" hearing before imposing a fine or fee. This new opinion, in 2019, has undergone a beating from other courts criticizing its holding, but generally remains good law for its fundamental holding that no one should be jailed for not being able to pay a fine or fee.

In 1970, the California Supreme Court, in In re Antazo (1970) 3 Cal.3d 100, disapproved of the then-common practice of requiring convicted defendants to serve jail time if they were unable to pay a fine and a penalty assessment. Id. at 103. The Supreme Court wryly stated that "the choice of paying a $100 fine or spending 30 days in jail is really no choice at all to the person who cannot raise $100. The resulting imprisonment is no more or no less than imprisonment for being poor." Id. at 108.
Forty-nine years later (now in 2019), defendants were still given this choice of paying a fine or serving time. To some who could not afford the fine, serving time remained the consequence of being poor.
This seems to have finally changed with the recent (January 8, 2019) decision by the California Court of Appeal, Second Appellate District, in People v. Velia Dueñas (2019 DJDAR 209). In this case, the court of appeal ruled that a judge must stay execution of a restitution fine imposed on a defendant until and unless the prosecutor demonstrates that a defendant has the ability to pay.
Does this mean the prosecution must do a financial study of each defendant to show a defendant has the ability to pay? Does this mean every defendant can just say "I'm poor and can't pay" and then the judge must hold a hearing on a defendant's ability to pay before ordering a defendant to pay a fine? The answers to these questions are unclear, but so far, less than a month after this ruling, we have seen judges just ask defendants if they have the ability to pay a fine and if the defendant says yes, the fine is imposed. If the defendant says no, the judge asks the prosecutor if they object to waiving the fine and so far, we have not seen the prosecution object.
It is good to appreciate the facts of Dueñas to better understand this seemingly watershed ruling.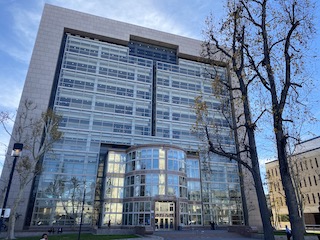 Van Nuys Courthouse
Velia Dueñas was (and still is) a homeless mother of two young children. She is married, but her husband does not have a steady job. He works part-time jobs in construction. Velia has cerebral palsy and cannot work. She dropped out of high school. The family receives about $1,000 per month in government aid. The family does not have a home of their own. They alternate between staying at the home of Velia's mom and the home of her husband's mom.
When Dueñas was a teenager, she received citations as a juvenile for various violations. She was assessed a fine, which she could not pay. Consequently, her driver's license was suspended. When the state amnesty program was in effect, allowing drivers to reinstate their license if suspended for failure to pay court fines, she was not qualified for the program.
However, she continued to drive and was ticketed for driving on a suspended license. The trial court in Van Nuys placed her on probation and imposed a fine of $220 in fees and fines. The judge there (Eric P. Harmon) ordered that if any outstanding debt remained at the end of Dueñas' probation, the amount owed would be referred to collections.
Dueñas appealed the order imposing the $220 in fees and fines, arguing that it was unconstitutional without first considering her ability to pay. It punishes her for being poor, in other words.

The Second Appellate District agreed, citing Preston v. Municipal Court (1961) 188 Cal. App. 2d 76, 87-88, which stated, "Whatever hardship poverty may cause in the society generally, the judicial process must free itself of sanctions born of financial inability."
Accordingly, the Second Appellate District reversed the order imposing court facilities and court operations assessments and remanded the case back to the Van Nuys Superior Court for the judge to stay the execution of the restitution fine until the prosecutor proves that Dueñas had the ability to pay.
While we applaud the appellate court for its decision, we recognize that such a ruling may significantly reduce the fees our courts collect if defendants who do have the ability to pay evade making such payments by falsely claiming an inability to pay. On the other hand, we appreciate the gravity of this decision as hopefully decreasing debts owed by individuals to the courts.
It will be very interesting if this decision is considered retroactive (under In re Estrada) to permit motions to vacate a judgement based on a judge's failure to consider a defendant's ability to pay. If so, there could be thousands, if not millions of judgments appealed in theory.
The citation for the Second Appellate District Court ruling discussed above is People v. Duenas (2019) 30 Cal.App.5th 1197.

For more information about sentencing issues, please click on the following articles:
Contact us.