Penal Code § 4573.5, Bringing Contraband into Jail?
Drake Noyan was sentenced to five years and four months in state prison for violating Penal Code § 4573.5, bringing contraband other than a controlled substance into jail. In Noyan's case, the contraband was alcohol. His sentence was so long because he had violated probation many times and was given a suspended sentence of three years.
Condensed Version: Court of Appeal Rules that Penal Code § 4573.5, Bringing Contraband other than a Controlled Substance into Jail, is Unconstitutional in its Sentencing Structure.

The state prison sentence is quite different than county jail because if one brings in a controlled substance to jail, a violation of Penal Code § 4573, one is sentenced to county jail. As many counts have noted, a sentence to county jail is distinctly different from a sentence to state prison.
In re Anderson
(1968) 69 Cal. 2d 613, 663-664, fn. 15.
Indeed, persons sentenced to county jail may have their sentence reduced by half if they agree to work and do not violate any rules or regulations ("good time, work-time" credit), whereas those sentenced to state prison may only earn sentence credits by working in qualified programs. See Penal Code § 4019 (b) (2) (county jail) and Penal Code §§ 293, 3933.2. In other words, a two year state prison sentence may end up being longer than three years in county jail.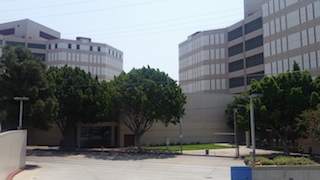 Twin Towers LA
Noyan appealed his sentenced to state prison, arguing that § 4573.5 was unconstitutional because it violated principles of equal protection when compared to § 4573.
Noyan filed his appeal with the Third Appellate District Court of Appeal because his case arose in Sutter County. The Court of Appeal agreed with Noyan. It ordered that Noyan should serve his time in county jail instead.
How the appellate court reached that decision is important to understand. The court agreed with Noyan that sections 4573 and section 4573.5 treat similarly situated classes of offenders differently, in violation of the Fifth Amendment to the United States Constitution and article 1, section 7 of the California Constitution.
To evaluate if the two classes of people addressed by 4573 and 4573.5 are similarly situated, the court must determine what is the legitimate purpose of the law. Here, it is to prevent persons from bringing contraband into a custodial facility. The only difference in that statute is the type of contraband, i.e. controlled substances and non-controlled substances. This was a distinction without a difference in the mind of the Third Appellate District.
The court then must evaluate if the differences in the statute is permissible. The test is the "rational relationship test." Here, the court found that the state legislature could not rationally find that a can of beer, a non-controlled substance, is more dangerous than a small amount of cocaine, a controlled substance. Similarly, the state legislature could not rationally find that a pack of cigarettes, a non-controlled substance, is more dangerous than a joint of marijuana, a controlled substance. Thus, there was no rational basis for the different sentencing structure.
Furthermore, the Third Appellate Court looked at the legislature history of AB109. It found that the Legislature in Sacramento never assessed the comparative threat that these two violations impose (4573 versus 4573.5), but the Legislature allowed 4573 violators to serve their sentence in county jail while 4573.5 violators went off to state prison. This appeared, to the court, to be "simply a legislature oversight." The court continued, "such an oversight cannot be supported on any rational basis."
Consequently, the appellate court ordered the judgment modified to reflect Noyan's sentence of five years and four months is to be served in county jail and not state prison.

The citation for the Third Appellate District Court ruling discussed above is People v. Drake Nicholas Noyan (3d App. Dist., 2014) 232 Cal.App.4th 657.

For more information about the issues in this case, click on the following articles:
Cooking Methamphetamine with Child Under 16 Present Involves Prison Sentence, Not Count Jail under AB109.
Contact us.