AB109 Doesn't Always Change Prison to County Jail Sentence
The Criminal Justice Realignment Act (AB109) prescribed that sentences for certain felonies would be changed from being served in state prison to county jail. These felonies were for "low-level" offenses sentenced after October 1, 2011.
Summary: AB109 Does Not Always Change Prison Sentence to County Jail Sentence, Even When the Offense Is Commercial Burglary (P.C. 459).

On April 29, 2011, or roughly five months before AB109 became law, Laniel Wilson entered into a plea bargain to felony commercial burglary. According to the plea bargain, he was sentenced to two years in state prison, but imposition of the sentence was suspended ("joint suspended"). Wilson was then placed on three years of probation. He was formally sentenced on May 20, 2011. His case was out of the Lancaster Superior Court.
About one month later, Wilson's probation was terminated because it was alleged that he committed an assault. In July, 2011, curiously, the judge found Wilson had violated probation and then reinstated him on probation. His state prison sentence was not imposed.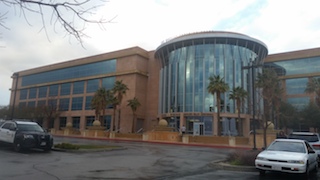 Lancaster Courthouse
A year later, in June, 2012, the District Attorney filed a motion to revoke Wilson's probation. At the hearing on the motion, Wilson admitted he had violated probation and pled no contest to two new misdemeanor counts in another case. The judge then imposed the two year prison sentence, with a 180 day jail sentence for the misdemeanor to be run concurrently. Wilson agreed to the prison sentence on the record.
Wilson then filed his appeal with the Second Appellate District. His appeal argued that in
People v. Clytus
(2012) 209 Cal. App. 4th 1001, a defendant in the same situation as Wilson was sentenced to county jail.
In
People v. Laniel Wilson
(2014 DJDAR 14076), the Second Appellate Court first noted that
Clytus
had been addressed in five other published decisions, each of which disagreed with
Clytus
. Two other published decisions had agreed with
Clytus
, but one had been ordered depublished.
The District Attorney, in opposing Wilson's appeal, argued that the Second Appellate District should overrule
Clytus
, although it agreed that a conviction for second degree commercial burglary (PC 459) does not qualify as a serious felony under Penal Code § 1192.7(c). However, that alone did not qualify Wilson for county jail, even if he was sentenced after because Wilson had two prior felony convictions from 1996 and 1997 for assault with a deadly weapon under Penal Code § 245(a)(1), which could disqualify Wilson from county jail if they were found to be serious felonies.
Such convictions constitute a serious felony under Penal Code § 1192.7 (a) if the defendant personally inflicts great bodily harm or personally uses a dangerous or deadly weapon. The 1997 complaint alleged that Wilson assaulted someone with a beer bottle and by kicking, but the record was deemed inconclusive as to any of the elements necessary under § 1192.7(a). There also was no factual basis agreed upon for the plea.
The Second Appellate District, however, decided that the terms of the plea bargain were paramount and determinative of the issue of county jail or state prison. If the trial court were to allow Wilson to serve his sentence in county jail, this would alter a material term of the plea agreement. In this regard, the appellate court cited to
People v. Segura
(2008) 44 Cal. 4th 921,930-31, where it was stated, "when a guilty [or no lo contendere] plea is entered in exchange for specified benefits such as the dismissal of other counts or an agreed maximum punishment, both parties, including the state, must abide by the terms of the agreement." In other words, a negotiated plea is a form of contract, and it is interpreted according to general contract principles. "The fundamental goal of contract interpretation is to give effect to the mutual intention of the parties."
People v. Shelton
(2006) 37 Cal. 4th 759, 767.
The appellate court then cited to
Swenson v. File
(1970] 3 Cal. 3rd 389, 393, wherein a similar issue was raised, and the California Supreme Court stated there that to hold that subsequent changes in the law which impose greater burdens or responsibilities upon the parties become part of that agreement would result in modifying it without their consent."
Swenson
involved a civil case, as it was not
People v. Swenson
. The Second Appellate court understood this, and found
Swenson
's principles also applied to the context of a plea agreement in
Doe v. Harris
(2013) 57 Cal. 4th 64. It noted that the parties to a plea agreement cannot be aware that their contractual obligations might be affected by later legislation made retroactive to them.
Therefore, the appellate court refused to alter the plea agreement. It consequently affirmed that trial court's sentence of Wilson to state prison.
The citation for the Second District Court of Appeals ruling discussed above is People v. Laniel Wilson (2d App. Dist., 2014) 163 Cal.Rtpr.3d 590.
For more information about the issues in this case, click on the following articles:
Defendant Violates Probation on a Seven-Year Joint Suspended Prison Sentence; Under AB109, Sentenced to Seven Years in County Jail.
Cooking Methamphetamine with Child Under 16 Present Involves Prison Sentence, Not Count Jail under AB109.
Contact us.