Penal Code § 16470: Is a Box Cutter a Dirk or Dagger?
The term "dirk or dagger" is not one used in everyday language, except perhaps if one is a prosecutor or criminal defense attorney.
What is a "dirk or dagger" exactly? How does the law define this?
Summary in 50 Words or Less: A dirk or dagger is any instrument that is capable of being used as a stabbing device that may inflict great bodily injury or death.

Penal Code § 16470 defines a dirk or dagger as a "knife or other instrument with or without a handguard that is capable of ready use as a stabbing weapon that may inflict great bodily injury or death." This language is followed by an exemption, specifically, "[A] nonlocking folding knife that is not prohibited by Section 21510 [i.e., a switchblade], or a pocketknife is capable of ready use as a stabbing weapon that may inflict great bodily injury or death only if the blade of the knife is exposed and locked into position."
In other words, § 16470 excludes only nonlocking folding knives, non-switchable folding knives (i.e., a Swiss Army knife), and pocketknives.

What about a box cutter? The following recent published decision arising out of the Airport Courthouse courtroom of Mark Windham addresses this issue.
On the evening of November 7, 2018, Sabrina O'Hara was leaving her home in West Hollywood to meet some friends for dinner. As she was walking out to her car, she heard someone yelling "help!" She looked around and saw a man slumped against a wall. She walked over to him and asked if he was hurt. He said yes and Ms. O'Hara could see his hand was bleeding. Ms. O'Hara used her cellphone to call 911 and then ran back to her house to get a towel to put on his wound to stop the bleeding.

As she was returning from her house with the towel for the injured man, she saw a homeless man, who she recognized as a homeless man who lived somewhere locally, yelling at the injured man "I'll fucking do it again, man! I'll kill you!"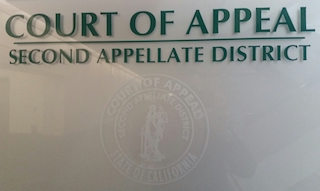 Second Appellate District Court of Appeal Los Angeles
Police then arrived and Ms. O'Hara pointed out the homeless man, Johnathan Lee Hester, who was nearby. Police searched him and found a folding box cutter in the man's right front pocket. The box cutter locked in place when opened and a button on the handle was pushed. When locked in position, the exposed portion of the blade was about an inch in length and very sharp. A second box cutter was also found in Mr. Hester's backpack.
Hester was arrested charged and convicted of assault with a deadly weapon (Penal Code § 245(a)(1)), criminal threats (Penal Code § 422), and carrying a concealed dirk or dagger (Penal Code § 21310). It was also alleged that Hester used a dangerous weapon in the commission of the criminal threats and suffered two prior felony convictions within the meaning of Penal Code § 667(a)(1) and the Three Strikes Law (Penal Code §§ 667(b)-(j), 1170.12).
After a bench trial, the judge granted the defense Romero motion (People v. Superior Court (Romero) (1996) 13 Cal.4th 497) to strike one of his two prior "Strike" convictions from 1990 and 1993. However, he was sentenced to six years in state prison, calculated as the high term of three years, doubled for one prior strike (not stricken under Romero).
Hester appealed the finding that the box cutters were a dirk or dagger and arguing that since one of the box cutters was in his backpack, it was not on his "person," as required under the statute.
The Second Appellate District affirmed the conviction, agreeing with Judge Windham that the box cutters were a dirk or dagger, noting that the box cutter blade was not folding and it could be locked in place to a fixed position after a person depresses the button on the handle to expose the blade.
The court also rejected Hester's argument that the boxcutter in the backpack was not on his "person," noting this issue had been repeatedly addressed in the context of a firearm in a backpack and no court has indulged such an argument like Hester made because it would be no different than having the weapon in a zippered pants pocket or a jacket pocket.
Justice Wiley added a spirited concurrence to the majority opinion, but wrote to point out that the definition of dirk or dagger is really far too broad and so ambiguous that "a miniature replica of the Eifel Tower" could be a dirk or dagger, too. Also, if someone "is sitting around a campfire whittling a stick, you are making yourself a dirk or dagger." This "stupendous breadth" (see People v. Rubalcava (2000) 23 Cal.4th 322, 331) is unfortunate, he wrote, but he joined in the majority opinion "with some uncertainty" and ended by saying he hoped the legal conversation about a dirk or dagger continues.
We offer this summary to epitomize how this crime is interpreted and how a conviction is extremely easy to obtain under it.
The citation for the Second Appellate District Court ruling discussed above is People v. Johnathan Lee Hester (2nd App. Dist., 2020) 58 Cal. App. 5th 630, 272 Cal. Rptr. 3d 648.

For more information about dirk or dagger issues, please click on the following articles: