Parole Revocation: What Burden of Proof Applies?
In answering the question posed in the title, it matters what type of conduct constitutes grounds for possibly revoking parole and the amount of punishment possible.
The Gist of this Article: The burden of proof required to prove a parole violation varies with the type of conduct alleged as a violation and the amount of punishment possible.

The following summary of a recent Fourth Appellate District case originally arising out of San Bernardino County exemplifies the varying burden of proof and how this depends on the type of conduct at issue and the amount of additional custody time that may become punishment.
Tyrel Martin was convicted in 2014 of committing a lewd and lascivious act with a child by use of force, violence, duress, menace or fear (Penal Code § 288(b)(1)). He was sentenced to a five-year prison term and released on parole in 2018.
In August of 2019, the Division of Adult Parole Operations of the California Department of Corrections and Rehabilitation (DAPO) petitioned to revoke Martin's parole, alleging that he failed to report to his parole agent upon release from custody, that he failed to register as a sex offender, and that he did not participate in electronic monitoring.

As part of a compromise with the DAPO, Martin admitted the failure to report and failure to participate in electronic monitoring and was ordered to serve a 180-day jail term.
A month later, the trial court judge, Shahla S. Sabet, set aside Martin's admissions, vacated the sentence, and set a formal parole revocation hearing, having been notified that the case should have been governed by Penal Code § 3000.08(h). Section 3000.08(h) provides that, for certain parolees (such as Mr. Martin here), a parole violation means that the parolee will be sent back to prison, with the Board of Parole Hearings responsible for determining future parole consideration. Mr. Martin did not dispute that § 3000.08(h) did apply to him.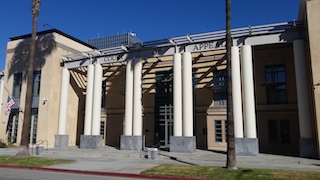 4th Appellate District Division 2 Riverside
Following a contested revocation hearing, Judge Sabet found that Mr. Martin had violated parole by failing to report to his parole agent upon release from custody, so he was ordered returned to prison.
Mr. Martin appealed Judge Sabet's finding of a violation, arguing to the Fourth Appellate District that he was entitled to a jury determination of whether he violated parole beyond a reasonable doubt.
Mr. Martin's appealed relied upon United States v. Haymond (2019) 588 U.S. ___, 139 S. Ct. 2369, which considered the right to a jury determination of a parole violation in the context of a federal statute. There was no majority opinion in this case.
However, a plurality of the United States Supreme Court found the federal statute unconstitutional, which allowed a judge to determine a violation by a preponderance of the evidence standard. The plurality of the justices found the statute violated the defendant's Fifth and Sixth Amendment rights because "a jury must find any facts that trigger a new mandatory minimum prison term."

In doing so, the plurality depended on a line of cases beginning with Apprendi v. New Jersey (2000) 530 U.S. 466, which held that "any fact that increases the penalty for a crime beyond the statutory minimum [o]ther the fact of a prior conviction must be submitted to a jury, and proved, beyond a reasonable doubt."
In a concurring opinion, joined by no other justices, Judge Steven Breyer began by stating he agreed with much of the dissent" and "would not transplant the Apprendi line of cases to the supervised-release context." Nevertheless, he believed the federal statute was unconstitutional because of the combination of three factors that made him think the statute was less like ordinary revocation and more like punishment for a new offense, to which the right to a jury would typically attach.
The three factors were that the statute (1) "applies only when a defendant commits a discrete set of federal criminal offenses; (2) "takes away the judge's discretion whether a violation of a condition of supervised release should be result in imprisonment and for how long," and (3) "limits the judge's discretion in a particular manner by imposing a mandatory minimum term of imprisonment of 'not less than 5 years' upon a judge's finding that defendant has committed any listed offense." Haymond, supra, at 2385.
The Fourth Appellate District pointed out "when there is no majority opinion, the narrower holding controls." Panetti v. Quartermann (2007) 551 U.S. 930, 949. Therefore, Breyer's concurring opinion controlled.
In reviewing Mr. Martin's argument, therefore, the Fourth Appellate District looked to see if Breyer's holding really applied and decided it did not because not reporting to his parole agent and not being fitted with an electronic monitor were not criminal offenses like Breyer's interpretation of Haymond held.
Therefore, Mr. Martin's appeal was denied and Judge Sabet's ruling was sustained.
We bring this summary to the reader's attention to underscore the importance of looking deeper at the nature of the alleged parole violation, as it matters.
The citation for the Fourth Appellate District Court ruling discussed above is People v. Tyrel Martin (4th App. Dist., 2021) 58 Cal. App. 5th 189, 272 Cal. Rptr. 3d 363.
For more information about parole issues, please click on the following articles: