Palos Verdes, DUI in Golf Cart, 0.24% BAC, DUI Dismissal
Our client, age 23, was walking home to Redondo Beach from a party in Palos Verdes Estates. He had been drinking. He came to the Palos Verdes Country Club and spotted a golf cart charging its battery in the club garage area. He jumped in and decided to drive it home, or at least as far as the charge would permit.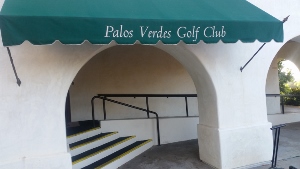 Driving the cart was fun and he enjoyed its turning abilities. He soon became lost and daylight arrived. A few golfers arrived and saw him driving around and became suspicious. He then allegedly crashed the cart and it flipped over. Golf course employees tried to make a citizen's arrest of him, but he allegedly ran away, "taunting them to just try to catch me!"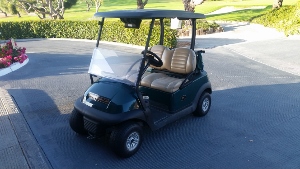 The Palos Verdes Estates Police Department was called to the course and detained our client, who was walking around the course. They asked two alleged witnesses if our client was the joyrider and one said yes and one replied that he was not sure.
In a Nutshell: Palos Verdes Estates arrest, DUI in a golf cart on PVE Country Club, damaging golf cart, 0.24% BAC, joyriding (Vehicle Code § 10851); DUI case dismissed, plea to public intoxication (Penal Code § 647).
Police then arrested our client without administering any field sobriety tests or a preliminary alcohol screening (PAS) test. They took him to the PVE Police Station and asked him to submit to a breath and blood test, which he did. His breath blood alcohol content was measured at 0.24%, or three times the legal limit (his blood was measured at the same level). He was then released to his parents after posting bail.
The client's father contacted Greg Hill & Associates, concerned about his son. His son had recently graduated from a reputable four-year university and had obtained a solid job with a Fortune 500 company.
Greg Hill immediately contacted the DMV and scheduled a hearing. He also made contact in person with the handling detective from the PVE Police.
At the DMV hearing, the client's license suspension was set aside because the time our client last drove was not proven or stated in the police report, making the blood and breath test legally irrelevant.
In the Torrance Superior Court, the client was charged with violating Vehicle Code § 10851, joyriding, and Vehicle Code § 23152(a) ("DUI without any BAC stated). The District Attorney's office understood that the BAC measured was legally irrelevant due to the ambiguous time of the client's last driving.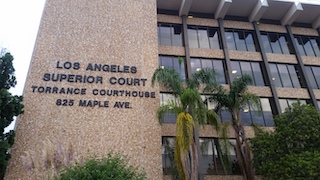 Torrance Courthouse
The young, aggressive District Attorney assigned to the case presented an initial offer of three years of summary probation, 60 days of county jail, 20 days of community service, the AB1353 program (a nine month program), a $500 fine plus penalties and assessments (total of approximately $2,600), the Mothers Against Drunk Driving (MADD) Victim Impact Panel (VIP), the Hospital and Morgue (HAM) program and restitution to the Palos Verdes Country Club for the damage to the golf cart. The young prosecutor made insulting remarks about our client as well.
Greg Hill looked over the police report and prepared a Defense Position Letter to the young District Attorney's supervisor. Greg explained that not one witness actually observed our client driving in an impaired manner, which is required to convict someone for a violation of Vehicle Code section 23152(a), and that the BAC would never be admissible due to the police report failing to note the times of the driving. Greg also explained a little bit about the client personally and how a DUI would affect his job.
The supervising attorney agreed with Greg and offered to resolve the case for a plea to an amended charge of public intoxication, a violation of Penal Code § 647(f), with a $50 fine, plus penalties and assessments, three years of summary probation and payment of restitution.
The client was very happy with this resolution and gladly accepted the offer, relieved that he avoided a DUI and all the consequences it would bring.
For more information about the issues in this case summary, click on the following articles:
Watch our video about DUI by clicking here.
Contact us.