North Hollywood Public Urination, Reduce to Infraction
Our client received a citation for violating Los Angeles Municipal Code § 4147.2 and was given a court date. The officer handing our client the violation advised that the code section prohibits urinating on a wall.
The client, age 25, had been out to dinner and then drinking with friends in North Hollywood, near the corner of Hollywood Boulevard and Hutton Avenue. The evening was coming to a close and our client had used the Uber website to request a ride home. He knew it was likely he would be drinking enough to make driving risky, so he opted to use Uber. After all, he had a prior conviction for DUI and he was not going to make that mistake again.
Summary: Client ticketed in North Hollywood, near the corner of Hollywood Boulevard and Hutton while waiting for an Uber. Client ticketed for violating Los Angeles Municipal Code § 4147.2. Case resolved at Metropolitan Court for an infraction with a $234 court fine.
This prudence did not extend to his decision to urinate on a wall near the intersection while waiting for the Uber driver to arrive. A Los Angeles Police Officer on foot patrol spotted him and approached him after our client had finished his business.
Our client, an engineer by trade, was respectful to the police officer and apologized profusely, hoping this might extricate him from any citation or ticket.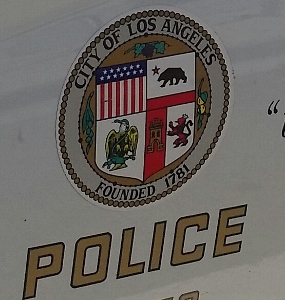 The cooperative nature of our client was not reciprocated by the police officer, who handed our client a ticket for violating Los Angeles Municipal Code section 4147.2, "urinating on a wall." The client then signed a promise to appear in the Metropolitan Court (1945 S. Hill Street) in about two months.
The client was shocked to realize the next morning that such a violation was a misdemeanor and he faced possible jail time for this, rather than just a $20 fine like with a parking ticket. Other websites on the Internet stated that the crime was a sex offense and that a judge could order him to register as a sex offender for life under Penal Code § 290.
He then asked a friend, a former client of our firm, what he should do to avoid jail time and 290 registration. The friend referred him to Greg Hill & Associates. He then called our office and spoke with Greg Hill.
Greg assured the client that this type of case would most likely never result in jail time, a requirement to register as a sex offender or even a misdemeanor. Greg explained that in his 18 plus years of experience, he had never seen one public urination case result in jail time or any obligation to register as a sex offender. Moreover, Greg explained that he thought, given the facts of the case, that this offense would be eligible for reduction to a misdemeanor or even DA diversion, depending upon the prosecutor and the police report.
Greg also noticed that the municipal code violation did not appear to exist, but surely could be amended to simply a violation of Penal Code § 372 by the prosecutor, if this were necessary. Greg explained that contesting this issue was perhaps better left uncontested, so that if anyone were to look at the client's record, the violation would be unclear, rather than clearly public urination, which has a certain stigma.
Greg then suggested that the client attend ten Alcoholics Anonymous (AA) meetings and write a short essay explaining why public urination was illegal, as these two things were helpful in having prior misdemeanor public urination cases reduced to infractions in the past.
The client agreed and quickly attended ten AA meetings and wrote a five-sentence essay on why public urination is illegal.
Greg then appeared at the arraignment in the Metropolitan Courthouse and did resolve the case for an infraction with just a $234 fee. The client was happy with this outcome, as he avoided probation (that would come with a misdemeanor) and because most background checks only search for felony and misdemeanor convictions and this was neither.
For more information about public urination issues, please click on the following articles:
Contact us.