Newport Beach, Shoplifting at South Coast Plaza, Expunged
Our client, then age 33, was convicted of violating Penal Code § 488 ("petty theft") back in 2001 after she was stopped outside Nordstrom's in the South Coast Plaza with more than $400 in clothing she had not paid for before leaving the store. The clothing included pants and shirts. She had recently immigrated from Algeria to the United States and was unfamiliar with how stores in the United States operated.
Bail was set at $10,000 and she did not understand how one could hire a bail bondsman for ten percent or less of the bail amount to deposit a bond for the full bail amount. She consequently spent two nights in jail in Orange County, not understanding English and fearful of being locked up in prison for years. She had watched many movies about prisons in the United States and believed that was exactly where she was destined.
So when she made it to court and the French interpreter explained to her that the Orange County District Attorney had charged her with grand theft, Penal Code § 487(a), she was fearful of prison. However, once her interpreter and the public defender spoke, she was advised that the public defender and the prosecutor assigned to her case agreed to resolve her case with no more jail, she could not agree fast enough.

According to the terms of her plea bargain, reached with the help of her public defender at the Newport Beach (Harbor Justice Center), our client pled guilty to a violation of an amended count 2, Penal Code § 488 ("petty theft") as a misdemeanor and was placed on three years of informal, or summary, probation. The charge of grand theft was dismissed.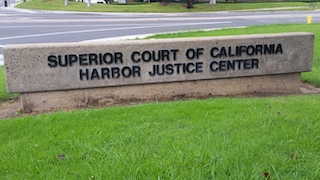 Newport Beach Courthouse
As terms of her probation, she agreed to stay away from all Nordstrom stores for three years, pay a $100 fine, plus penalties and assessments to the court, and perform 32 hours of approved community service. She also had to pay the Orange County Sheriff's booking fee.

She paid the court fees and fines within a week, as well as the booking fee. She then performed 32 hours of approved community service within the month and dutifully stayed away from all Nordstrom stores for three years.
Nineteen years later, in 2020, she was finishing her degree in French at Cal State Long Beach and hoping to become a credentialled teacher to earn a living, as her marriage had failed. She was also fearful of being deported back to Algeria, although she had no other convictions of any type.

She walked into Greg Hill & Associates and asked to speak to Greg. Greg immediately spoke with the client, listening to her explain how her conviction might prevent or at least delay her receipt of a teaching credential. She asked Greg if she could have the conviction "deleted" or "removed," but Greg explained that since she was actually convicted of violating a law, she was ineligible for sealing and destroying a police report and court file as is available under Penal Code §§ 851.91 and 851.92.
However, Greg explained that her conviction could be "expunged," which meant her guilty plea would be withdrawn and her original not guilty plea would replace it as the final plea. The case would also be dismissed. Greg further explained that most professional licensing bodies would not consider a conviction from twenty years ago as being too remote, but that she most likely would have explain the facts of the case and explain how she had lived a life of no further criminal activity since then, which was true.

Greg Hill & Associates then prepared the petition for dismissal (expungement), including a declaration from our client explaining why she requested such relief and describing her goals of one day establishing an academy for children to learn French.
Greg then filed the motion at the Newport Beach Superior Court and served it on the Orange County District Attorney's Office in the Newport Beach courthouse, on the first floor.
The motion was granted without even a hearing. The judge assigned to the case granted the petition in chambers, which our client greatly appreciated.
For more information about expungement and immigration consequences involving a conviction, please click on the following articles: