Shoplifting, Diversion & Immigration Problems – What to Do?
If an attorney or the judge offers to resolve your petty theft case through diversion, beware. Your attorney may extoll the virtues of diversion, commenting that "you will never be convicted" and "your case will be dismissed." It may sound good. The judge in the case may even suggest the same thing.

What to Take Away: If a non-citizen enters a no contest or guilty plea as part of a diversion program, such a plea constitutes a conviction under federal immigration law even if the state court judge never enters judgment against the non-citizen. In other words, the only form of diversion a non-citizen should enter is one where it is not required to first plea guilty or no contest.
Be careful before accepting this invitation. Any type of theft is a Crime Involving Moral Turpitude (CIMT). A noncitizen is inadmissible to the United States (i.e. ineligible for a Green Card) if he or she is convicted of – or admits to committing – one CIMT (other than if it is a political offense) unless that person qualifies for:
1. The "Petty Offense Conviction Exception," where the person has committed only one CIMT ever, the CIMT has a potential sentence of a year or less (this is so with California Penal Code §§ 459.5 and 484(a)), and a sentence of six months or less was imposed; or
2. The "Youthful Offender Exception," where the person committed a single CIMT while under the age of 18 and at least five years have passed since the conviction (in California, one is "adjudicated" in juvenile court, not convicted) and when one was released from jail;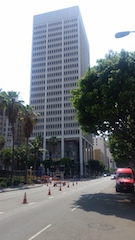 Immigration Court Downtown Los Angeles
If you are required to enter a "no contest" or "guilty" plea to "divert" the case, this will count as a conviction under federal immigration law even if the case is later dismissed or you have no conviction under state law. This can be counterintuitive, but it is better to be warned or this and aware of this before accepting the offer of such diversion.
This is because immigration law defines "conviction" as a formal adjudication of guilt or if adjudication has been withheld, where a judge or jury has found the person guilty or the person entered a plea of "guilty" or "no contest" or "no lo contendere."
A conviction under immigration law can also be found if a person has admitted sufficient facts to warrant a finding of guilt and the judge has ordered some form of punishment, penalty or some form of restriction on the person's liberty has been imposed (i.e. a stay away order from a particular store or even a whole shopping center).

Sephora
On Form I-485, Adjustment of Status Application (Green Card), it asks have you ever been arrested, cited, charged or convicted of violating any law. To provide a truthful answer, you must check "yes" if you were even cited or arrested for shoplifting. You will then be asked to explain the arrest, citation, charge or conviction. You will then need to describe the situation and submit a certified copy of the court disposition See Form I-485 instructions at http://1.usa.gov/221lhs. What we have found is that often there is no case filing in court, so there is no court disposition. Some courts can then provide a form that is on their letterhead that states no case was filed as a result of a particular arrest or citation, but many courts will not do so.
If your case is dismissed after you complete a diversion program and you never admitted guilt earlier or entered a plea of "guilty" or "no contest," you do not have a conviction as defined by U.S. immigration law. Moreover, a conviction for petty theft does not make one ineligible for a Green Card if you qualify for the "Petty Offense Conviction Exception" or "Youthful Offender Exception."
The laws in this area do change, it seems rather frequently, so the prudent thing to do is check with an experienced immigration attorney about your case and the consequences of a petty theft conviction or diversion program for such a charge.
For more information about immigration issues and shoplifting in general, please click on the following articles:
Contact us.