New Two-Year Felony Probation Period Applied to Drug Case
Defendant Moriah Noel Quinn was convicted by a jury in San Francisco Superior Court of felony attempted interstate transportation of marijuana in violation of Health & Safety Code § 11360(a)(3). She had been arrested by security-screening officers at San Francisco International Airport, who found over 13 pounds of marijuana in her luggage and that of her mom.
Summary in 50 Words or Less: AB 1950 applied retroactively to reduce felony probation from three years to two years.

After her arrest, she admitted that she was paid to transport a bag filled with marijuana from San Francisco to New York. She also admitted that she had flown with marijuana in her luggage on a least two prior occasions.
Following her conviction, the judge sentence Ms. Quinn to three years of formal probation with several conditions, one being that she abstain from the use and possession of controlled substances, including marijuana.
Ms. Quinn appealed her conditions of probation to the First Appellate District Court in San Francisco, arguing that the probation condition about abstaining from use and possession was overbroad (People v. Lent (1975) 15 Cal.3d 481) and that her term of probation should be two years, not three, under Assembly Bill (AB) 1950.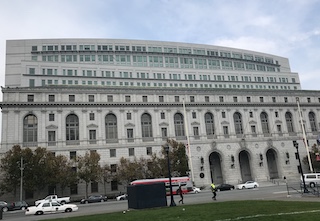 Court of Appeal First Appellate District San Francisco
The First Appellate District agreed with Ms. Quinn that the probation condition prohibiting her from the use or possession of any controlled substance should be modified to permit her use and possession of legally prescribed medications, but otherwise was justified based on the nature of her crime (People v. Carbajal (1995 10 Cal.4th 114, 1120 (a sentencing court has broad discretion to fashion appropriate conditions of probation to facilitate rehabilitation and foster public safety)).
The appellate court also agreed with Ms. Quinn that her probation period should be shortened to two years under AB 1950.
The appellate court reminded the reader that at the time Ms. Quinn was sentenced, Penal Code § 1203.1 authorized felony probation "for a period of time not exceeding the maximum possible term of the sentence," which was usually three years on a felony charge with a 16 month, two years and three years sentencing structure. However, § 1203.1 continued, stating where the "maximum possible term of the sentence is five years or less, then the period of suspension of imposition or execution of the sentence may, in the discretion of the court, continue for not over five years."

Effective January 1, 2021, Assembly Bill 1950 modified 1203.1 to now read, "The court, or judge thereof, in the order granting probation, may suspend the imposing or the execution of the sentence and may direct that the suspension may continue for a period of time not exceeding two years . . ."
The big question for the First Appellate District is whether AB 1950 was retroactive to cases that had not reached a final sentence, but which had been decided prior to AB 1950 becoming the law. In that regard, the California Supreme Court had ruled in People v. Frahs (2020) 9 Cal.5th 618, 627-628, that "Generally, statutes are presumed to apply only prospectively. However, this is a canon of statutory interpretation rather than a constitutional mandate. Accordingly, the Legislature can ordinarily enact laws that apply retroactively, either explicitly or by implication. Courts look to the Legislature's intent in order to determine if a law is meant to apply retroactively."
In In re Estrada (1965) 63 Cal.2d 740, the California Supreme Court held that amendatory statutes that lessen the punishment for criminal conduct are ordinarily intended to apply retroactively.
Within this legal background, the People argued in Quinn's case that probation was not a form of punishment but acknowledged that one appellate court division in Los Angeles already found that AB 1950 enjoyed the Estrada presumption of retroactivity (People v. Burton (2020) to 58 Cal. App. 5th Supp. 1 because it found that probation constituted punishment.
The First Appellate District Court then discussed the reasoning offered in the Burton case and agreed that probation was punishment, so Ms. Quinn's probation would be shortened from three years to two years.
We offer this case while emphasizing that Ms. Quinn's sentence was not final, so she enjoyed the benefits of AB 1950, but most people who resolved cases in 2020 before AB 1950 became effective will not because most people do not challenge their sentence on appeal.
The citation for the First Appellate District Court ruling discussed above is People v. Moriah Noel Quinn (1st App. Dist., 2021) 59 Cal. App. 5th 874, 273 Cal. Rptr. 3d 770.

For more information about probation and retroactive application of new laws, please click on the following articles: