Is the New Two-Year Felony Probation Law Retroactive?
As the reader of this article may be aware, during 2020, the California Legislature enacted Assembly Bill 1950, which amened Penal Code § 1203.1 to limit felony probation to two years, subject to quite a few exceptions. It also amended Penal Code § 1203a to limit the maximum length of misdemeanor probation to one year for most misdemeanors (big exceptions include DUI and domestic violence).

The question that most have concerning this new law is how it affects those already on probation? Will it cut short probation now? Will half the county probation department now have no job if so many people are discharged from probation?
The Reader's Digest Version: Generally speaking, AB 1950 has retroactive effect to limit felony probation to two years and misdemeanor probation to one year, subject to many exceptions, as the following article discusses.

On January 14, 2021, merely two weeks after this law became effective, the Fourth Appellate District answered this question in the way most might expect: "it matters."
Defendant Tony Ramon Sims was convicted in San Diego Superior Court of two counts of being a felon in possession of a firearm (Penal Code § 29800(a)(1)) and one count of unlawful possession of ammunition (Penal Code § 30305(a)(1)).

After his conviction, he appealed to the Fourth Appellate District the trial court's ruling on his motion to suppress, which Judge Jay M. Bloom had denied. He also argued that Assembly Bill 1950 should reduce his formal probation from three years to two years.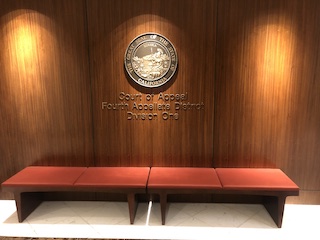 Court of Appeal Fourth Appellate District Div 1 San Diego
The Fourth Appellate District affirmed the ruling on the motion to suppress (finding that the search was valid under the automobile exception to the warrant requirement, or alternatively, as a search incident to an arrest), but agreed that his probation period should be reduced to two years by operation of AB 1950.
This second ruling on the probationary period was hotly contested by the People. Mr. Sims argued that AB 1950's change to Penal Code § 1203.1 that limits the maximum probation period a trial court may impose for most felony offenses to two years constitutes an ameliorative change to the criminal law that applies retroactively under In re Estrada (1965) 63 Cal.2d 740 to cases that were not reduced to final judgement as of the new law's effective date.
The Fourth Appellate District agreed. It explained that, by default, criminal statutes are presumed to apply prospectively only. Penal Code § 3 ("No part of the Penal Code is retroactive unless expressly so declared"); see People v. Superior Court (Lara) (2018) 4 Cal.5th 299, 307.
However, this presumption is a canon of statutory interpretation, not a constitutional mandate. Accordingly, the Legislature may enact laws that apply retroactively, either explicitly or by implication. People v. Frahs (2020) 9 Cal.5th 618, 627 (regarding Mental Health Diversion, Penal Code § 1001.36 – this Fourth Appellate District ruling is summarized on this website at Article 958). To determine whether a law is meant to apply retroactively, a court must determine the intent of the Legislature. Id.
In Estrada, supra, at 740, the California Supreme Court set forth an important qualification to the default presumption against retroactivity. Estrada recognized that when the Legislature enacts a new law ameliorating a criminal penalty, it determines "that its former penalty was too severe and that a lighter punishment is proper as punishment for the commission of the prohibited act." Id. at 745. Estrada then determined that in the absence of an express savings clause or other indication of prospective-only application, courts must infer the Legislature intended its new ameliorative law to apply "to every case to which it constitutionally could apply," including cases in which the criminal acts were committed before the law's passage provided the defendant's judgement is not final. Id.
To hold otherwise, Estrada reasoned, "would be to conclude that the Legislature was motivated by a desire for vengeance, a conclusion not permitted in view of modern theories of penology." Id.
In response to this approach, the People did not argue that the Legislature was motivated by vengeance, but that AB 1950 was not an ameliorative change to punishment because probation is not punishment. It is merely a state administratively monitoring a person. AB 1950 also did not reduce the number of years a person serves in prison as "traditional" punishment or reduce the fines one must pay.
The Fourth Appellate District subdued its disdain for this outrageous argument, noting respectfully that probation is certainly a form of punishment because it restricts one's liberty in many ways. It can be invasive, time-consuming, and restrictive for a probationer. People v. Edwards (1976) 18 Cal.3d 796, 801 (probation is "an alternative form of punishment in those cases when it can be used as a correctional tool"); Fetters v. County of Los Angeles (2016) 243 Cal.App.4th 825, 8737 ("Both California and federal courts . . . regard probation as a form of punishment"); Feiock v. Feiock (1988) 485 U.S. 624 639, fn. 11 ("A determinate term of probation puts the contemnor under numerous disabilities that he cannot escape.").
In other words, AB 1950 does not reduce the term of probation for those already on probation with a final judgement, but it will reduce the term of probation for those defendants whose cases have not reached a final judgement.
The citation for the Fourth Appellate District Court ruling discussed above is People v. Tony Ramon Sims (4th App. Dist., 2021) 59 Cal. App. 5th 943, 273 Cal. Rptr. 3d 792.

For more information about retroactivity issues in general and felony probation, please click on the following articles: